Japanese government officials have indicated a willingness to join other countries in releasing oil reserves.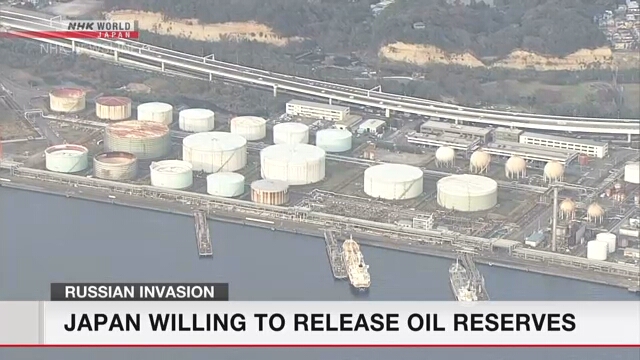 That would happen if the International Energy Agency calls for a concerted effort to ensure enough supply, as crude prices continue to rise following Russia's invasion of Ukraine.
The benchmark WTI crude oil futures on Thursday briefly exceeded 100 dollars per barrel in New York for the first time in seven years and seven months.
Japan's foreign ministry on the same day announced its plans to help stabilize the energy market. But officials said the IEA has yet to ask for a release of reserve oil. They added that Japan has not made any proposal, either.
The agency's job is to ensure energy security. It requires member states to maintain oil stocks. And it would lead efforts to release extra oil should armed conflict or a natural disaster raise the likelihood of a global crude shortage.
The IEA has played that key role three times in the past. Once was during the 2011 crisis in Libya, an oil-producing country.