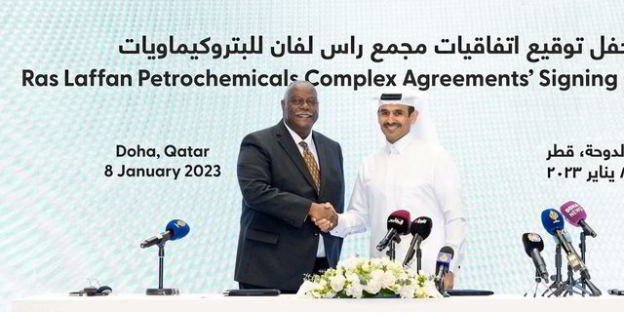 Qatari giant also awarded EPC contract for project's ethylene plant to pairing of Samsung Engineering and CTCI
QatarEnergy and US giant Chevron Phillips Chemical have taken the final investment decision to build a massive petrochemical complex in Qatar, valued at $6 billion.
The Qatari state-controlled player on Sunday confirmed the development, saying the FID "is the largest investment in its history" and comprises a huge "integrated olefins and polyethylene facility at Ras Laffan Industrial City".
QatarEnergy will hold a 70% stake in the facility, while the balance 30% is being held by Chevron Phillips Chemical — a joint venture between Chevron Corporation and Phillips 66.
The Qatari giant also announced the award of the key engineering, procurement and construction contract for the ethylene plant to a pairing of South Korea's Samsung Engineering and Taiwan's CTCI.
Italy's Maire Tecnimont won the EPC contract for the polyethylene plant, while Emerson of the US has landed the key automation contract, QatarEnergy stated.
Samsung Engineering on Monday confirmed the EPC prize, claiming it has received a Letter of Award for the petrochemical plant in Ras Laffan Industrial City, 80 kilometres north of Doha.
"Samsung Engineering will be in charge of the major ethylene production facilities with its scope of work including furnaces, C2 hydrogenation, hydrogen purification unit and three main compressors," it said.
In addition, CTCI will be responsible for "the utility infrastructure, including steam and condensate collecting and boiler feed water, among others", it added.
QatarEnergy said the Ras Laffan Petrochemicals complex is expected to begin production in 2026 and consists of an ethane cracker with a capacity of 2.1 million tonnes per annum of ethylene, "making it the largest in the Middle East and one of the largest in the world".
"It also includes two polyethylene trains with a combined output of 1.7 million tpa of High-Density Polyethylene (HDPE) polymer products, raising Qatar's overall petrochemical production capacity to almost 14 million tpa," it stated.
First direct investment
Saad Sherida Al-Kaabi, chief executive of QatarEnergy said the project is the largest investment ever in Qatar's petrochemicals sector and the first such direct investment in 12 years.
"It will double our ethylene production capacity, and increase our local polymer production from 2.6 million [tpa] to more than 4 million tpa, and place the utmost emphasis on sustainable growth and the environment," Al-Kaabi noted.
Terming it as an important milestone in QatarEnergy's downstream expansion strategy, Al Kaabi said the project "will not only facilitate further expansion in the downstream and petrochemical sectors in Qatar, but will also reinforce its integrated position as a major global player in the upstream, LNG and downstream sectors".
The FID on the Ras Laffan project follows a separate investment decision last year by QatarEnergy and Chevron Phillips Chemical on the $8.5 billion Golden Triangle Polymers Plant on the US Gulf Coast.