In what the motor giant is calling a huge breakthrough for Vehicle to Grid (V2G) technology, Honda has become the first automaker in Europe to gain Frequency Containment Reserve (FCR) prequalification.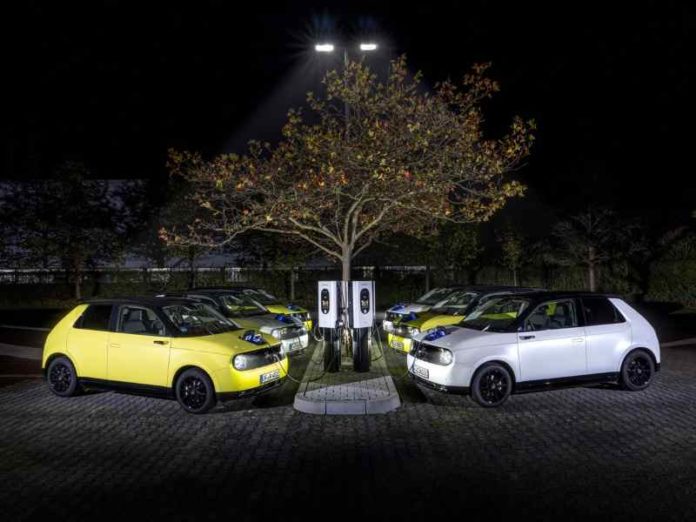 Honda technology ready to supply frequency containment reserve for power grid stabilisation. Image courtesy Honda.
The results came after a successful grid stability proof of concept trial, which saw Honda link a fleet of mass-produced EVs to a VPP in Germany for grid balancing services.
The breakthrough came from Honda's advanced research and development division, Honda R&D Europe (Deutschland) GmbH.
In the pilot with Next Kraftwerke GmbH – one of Europe's largest Virtual Power Plant (VPP) operators – Honda has now achieved certification of a fleet of mass-produced EVs for the prequalification of FCR by Ampiron GmbH in Germany.
A grid balancing pilot
When reacting to short-term frequency deviations in the power grid, service operators rely on balancing services that automatically intervene to restore balance between supply and demand. Of these balancing services, FCR is the highest performance class for grid stabilisation and is also referred to as primary control reserve as it is the first response to frequency disturbances.
The pilot utilised mass produced Honda e EVs, which qualified for support of grid stability through the instant provision of FCR to the Transmission System Operator (TSO).
A fleet of six Honda e's and six Honda Power Manager bi-directional Combined Charging System (CCS) chargers were used during the trial, in which Honda was able to fulfil the high requirements for charging and discharging, necessary to ensure stable 50Hz grid frequency.
Using real-time information from Next Kraftwerke about current power capacity, Honda's own power management system is able to respond within required standard time to charging and discharging commands of the TSO to each individual vehicle. This is done while respecting the single State of Charge (SOC) preferences of the individual EV driver.
Bi-direction proof of concept
This development is a vital step for advancing the role of EVs and bi-directional charging technology for a future sustainable energy system. Maintaining consistent grid stability will become one of the major challenges for the TSOs alongside the further expansion of renewable energy sources.
"The project with Next Kraftwerke enables Honda to meet the new demands of the European market and deliver on its commitment to develop technologies that are creating value for society," said Tom Gardner, senior vice president, Honda Motor Europe.
"Typically, EVs are parked and connected to a charging station for most of the day, at offices and on driveways. Honda has identified that these standing times can be better utilised to offer additional services and revenues, through smart charging and discharging based on the current power grid frequency.
"This not only benefits EV owners, but also the surrounding infrastructure as we transition into an e-mobility-driven society," added Gardner.
In a recent trial, Honda also partnered with the V2X Suisse consortium to demonstrate the vital role of EVs and bidirectional charging technology in the future of energy management.
The company supplied 50 Honda e cars and 35 Honda Power Manager units to support the trial, which delivered vehicle-to-grid (V2X) energy recovery capability for car sharing operator, Mobility, at sites across Switzerland.