The clean energy industry celebrated a moment on August 7, 2022, that would have seemed impossible just a few weeks earlier: The Senate passed a budget measure that includes the largest investments in clean energy and climate change in US history.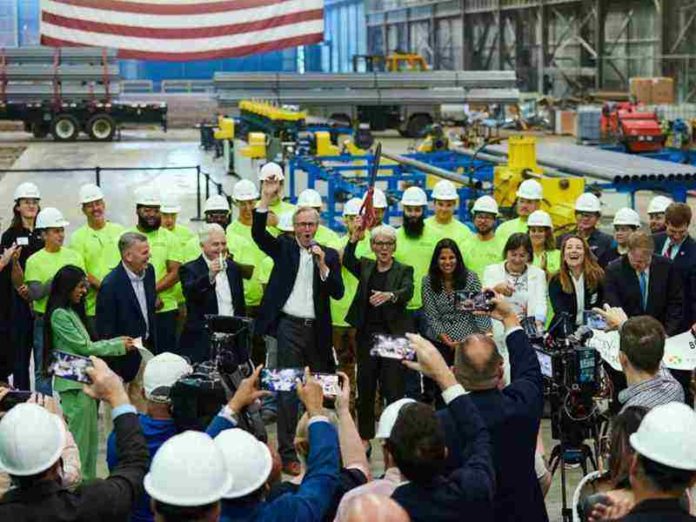 Nextracker CEO Dan Shugar celebrated the opening of his company's new facility near Pittsburgh alongside Energy Secretary Jennifer Granholm (Courtesy: Nextracker)

At $369 billion, incentives for clean energy deployment and climate change mitigation make up nearly half of the Inflation Reduction Act. The $740 billion budget package must now be passed by the Democrat-controlled US House.
"Today is a monumental day for America's clean energy progress and global climate leadership," said Abigail Ross Hopper, CEO of the Solar Energy Industries Association. "With the passage of the Inflation Reduction Act in the Senate, solar and storage companies are one step closer to having the business certainty they need to make the long-term investments that decarbonise the electric grid and create millions of new career opportunities in cities and towns across the country."
Less than a month earlier, Sen. Joe Manchin (D-WV) again sunk hopes that the clean energy and climate change components of the stalled Build Back Better package could be revived.
But on July 27, Manchin, along with Majority Leader Chuck Schumer, announced a surprise deal that included a 10-year extension of the Investment Tax Credit and Production Tax Credit for wind, solar and geothermal energy deployment, a new credit for standalone energy storage projects, credits for new and used electric vehicles and incentives for US solar manufacturers.
Besides spurring clean energy deployment, the Inflation Reduction Act could bring the US in line with its Paris Agreement goal of reducing greenhouse gas emissions by 40% from 2005 levels, according to analysis by Princeton University's REPEAT Project.
American Clean Power Association CEO Heather Zichal said the Inflation Reduction Act represents an "unprecedented investment in clean energy" that would "supercharge" the industry and the broader US economy.
"This is the vote heard around the world," Zichal said. "This is a generational opportunity for clean energy after years of uncertainty and delay."
Certainty has eluded the clean energy industry over the past two years.
While the coronavirus pandemic choked supply chains worldwide, expiring tax credits, interconnection delays and trade disputes jeopardised decarbonisation goals in the US.
Baked into the Inflation Reduction Act are provisions of the Solar Energy Manufacturing for America Act, which incentivises US production throughout the solar value chain. The incentives would provide new certainty for domestic solar manufacturers and developers, who seek a 'Made in America' product that is difficult to source.
Elements include:
• 11 cents/watt for integrated modules
• 7 c/w for non-integrated solar modules
• 4 c/w for cells
• $12/sq. m. of wafer
• $3/kg of polysilicon
• 40 c/sq. m. of polymeric backsheet
"Energy independence and decoupling from overseas inflation factors has never been more important," Nextracker founder CEO Dan Shugar said. "We urge the House to quickly pass this landmark legislation for President Biden's signature.
The Inflation Reduction Act would allow US solar manufacturers to compete in the global marketplace, according to Michael Parr, executive director of the Ultra Low-Carbon Solar Alliance.
"This will mean more good manufacturing jobs, strengthened US energy independence and reduced carbon emissions," Parr said.