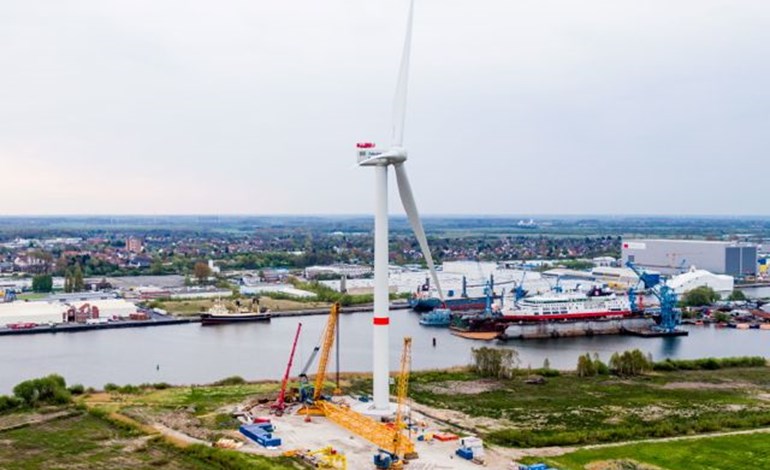 Fraunhofer IWES has started a project to measure the aerodynamics of wind turbines with a rated power of more than 5MW, which it claims to be the first-ever validation of its kind.
In the €4m HighRe project, aerodynamic properties of an Adwen wind turbine with a rated power of 8MW and a rotor diameter of 180 metres, are being measured in Bremerhaven, Germany and compared against "complex models".
The project will assess whether the model calculations used to date continue to be valid for large wind turbines, primarily aimed at the offshore wind market.
Using detailed data from real wind conditions wind turbines operate in, HighRe will enable researchers to analyse and understand the precise aerodynamic effect on the biggest rotor blades.
In the project three overlapping lidar will scan the wind field in front of the wind turbine, and will also be complemented with additional wind measurements in front of and behind the turbine.
At the same time, sensors installed on the turbine and rotor blades will be able to record the conditions with precision.
Prior to HighRe, Fraunhofer IWES was able to demonstrate that there are "significant deviations" in the models of yawing large-scale wind turbines.
The model used was developed almost 20 years ago on much smaller turbines. Similarly wind turbine aerodynamics modelling is based on small turbines.
To compensate for this, computational fluid dynamics (CFD) methods are used, but to date the accuracy of CFD methods has been checked on smaller turbines.
Fraunhofer IWES project manager Bernhard Stoevesandt said: "The HighRe project is a great opportunity for wind energy research and the wind energy industry.
"With this project, the safety and accuracy of wind energy aerodynamics can be adapted to real turbine development."