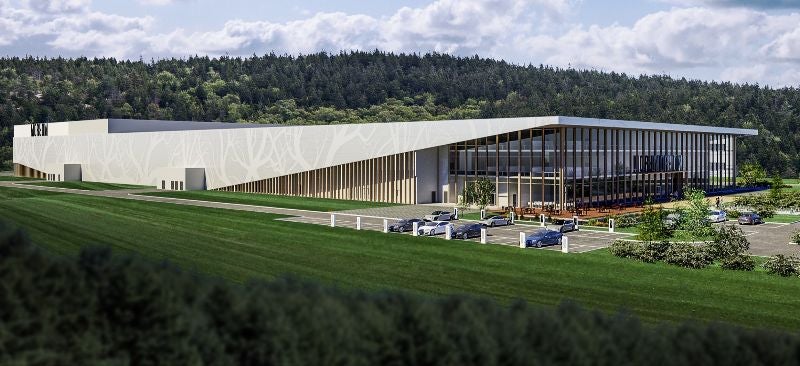 The Arendal factory will have an initial production capacity of more than 1GWh of battery cells a year. Credit: © Morrow Batteries.
Norwegian battery start-up Morrow Batteries has secured €100m in an investment round led by Siemens Financial Services and ABB.
Other investors in the round were Nysnø Climate Investments and Arendals Fossekompani, as well as the company's existing shareholders PKA, NOAH and Agder Energi Invest.
Morrow Batteries aims to manufacture cost-effective and sustainable battery cells. The company is currently working to establish a factory in Arendal, Norway.
The firm said that the backing from industrial owners will strengthen its relationships with key suppliers and future customers.
Commenting on the fundraising, Morrow CEO Terje Andersen said: "Bringing in long term, solid and competent capital from some of the leading industrial companies in Europe with a global reach will be of great value on our path to manufacture the most sustainable and cost-effective batteries.
"Together with the backing from the Norwegian state-owned Nysnø Climate Investments, this brings us into the top tier of battery manufacturers in Europe."
Morrow Batteries will use the proceeds to develop the first phase of the battery cell factory in Arendal.
The factory will initially have a production capacity of more than 1GWh of battery cells a year. This will increase to 43GWh a year once its development is completed in 2028.
Andersen added: "This capital raise primarily finances equipment for the first factory.
"It will be the first battery cell production facility in Norway with capacity to deliver to the commercial market, and we will manufacture the first battery before the end of 2023."
ABB Traction Division president Edgar Keller said: "We are very excited to invest in Morrow and look forward to partnering with them on their journey to becoming a leading global supplier of sustainable batteries.
"Once available, these batteries will become a key component in the production of our energy-efficient portfolio, which strives to make sustainable transport a reality."