Indonesia's national oil company Pertamina and Mitsui of Japan have launched a joint feasibility study on carbon capture, utilisation and storage (CCUS) commercialisation in Indonesia.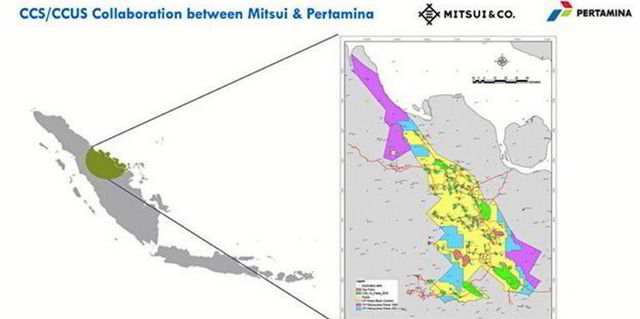 The study aims to evaluate the carbon dioxide subsurface storage capacity of the oil and gas fields with declining production, including the Rokan block onshore Central Sumatra.
Pertamina recently took the helm at Rokan after the Indonesian authorities declined former operator Chevron's request for an extension to its production sharing contract.
Rokan, one of the nation's largest onshore assets, is home to giant mature producing oilfields including Minas and Duri.
"Utilising the abundant technical data on and existing infrastructure in the Pertamina's fields, we will strive to co-develop a cost competitive CCUS project in which synergies based on advantages of scale can be expected," Mitsui said.
Carbon dioxide emissions sources around the location of proposed storage or utilisation sites will be determined and mapped alongside plans for the development of carbon capture and storage (CCS) and CCUS hubs and clusters.
The Japanese contractor and Pertamina will also examine the commercial potential of establishing a CCUS value chain, including the capture and transportation of CO2 emitted from industrial plants, power generation plants and other facilities.
This study will also look into the potential of receiving CO2 not only from within Indonesia, likely by pipeline or truck, but also from other nations including Japan via ship transportation, aiming to create a new low-carbon solution business in Indonesia.
The two companies would too explore the possibility of a long-term partnership in decarbonisation and transitioning into clean technology, Pertamina said.
CCUS development is one of Indonesia's strategies towards reaching net zero emissions by 2060 and the government is currently drafting legislation for the sector.
"In the era of energy transition, Pertamina and other industries must make every effort to reduce and mitigate carbon emissions into the atmosphere in order to keep climate change under control," Pertamina director Iman Rachman said.
Government regulations, permits, support and stakeholder co-operation will be key factors for the success of this CCUS initiative, he added.
"The application of CCUS technology is expected not only to reduce greenhouse gas emissions but also to have financial benefits for an inclusive carbon economy," said Iman.
CCS and CCUS schemes also offer the potential for enhanced oil recovery and enhanced gas recovery from both existing and future fields in the republic.
Repsol is planning a CCS scheme in tandem with its Sakakemang (Kali Berau Dalam) gas field development in Sumatra.
This initiative will see 2 million tonnes per annum of CO2 stored from 2027 on the depleted Gelam and Dayung fields on an adjacent block with a cumulative 30 million tonnes of carbon dioxide expected to be avoided through 2040 via this CCS project.
It will be the first CCS project deployed by Repsol and will be the first in Indonesia, the Spanish operator has claimed.
UK supermajor BP also has plans for a CCUS scheme at the next phase of its Tangguh liquefied natural gas project in West Papua province.
This CCUS project will see approximately 25 million tonnes of CO2 injected back into the Vorwata field reservoir to eliminate venting and boost output via enhanced gas recovery.
This scheme is intended to remove up to 90% of the reservoir-associated CO2 that currently accounts for almost half of all Tangguh LNG's emissions.
Meanwhile, Pertamina is eyeing CCUS at its Gundih and Sukowati fields onshore Java.
The governments of Indonesia and Japan earlier this year agreed to co-operate on decarbonisation technology including hydrogen, ammonia and CCS.
Mitsui is already participating in CCUS projects in the UK and other nations and is now seeking to create a CCUS value chain in the Asia Pacific region through its partnership with Pertamina, thereby accelerating CCUS commercialisation projects around the globe.
Hailing Indonesia as "one Asia's leading oil and gas producers", Mitsui said it is expected that oil and gas fields entering the production decline phase will be reused in CCUS-related business.
"CCUS is expected to play a significant role in helping the Asia-Pacific region achieve a low-carbon economy while meeting its growing energy demand.
"Leveraging our expertise in the oil and gas upstream business and extensive business networks, both of which represent Mitsui's strengths, we will work closely with Pertamina to provide industrial CO2 reduction solutions in Indonesia," said Toru Iijima, chief operating officer of Mitsui's energy business unit 1 and energy solution business unit.
"Through development of CCUS-related business globally, Mitsui continues to contribute to creating an eco-friendly society."