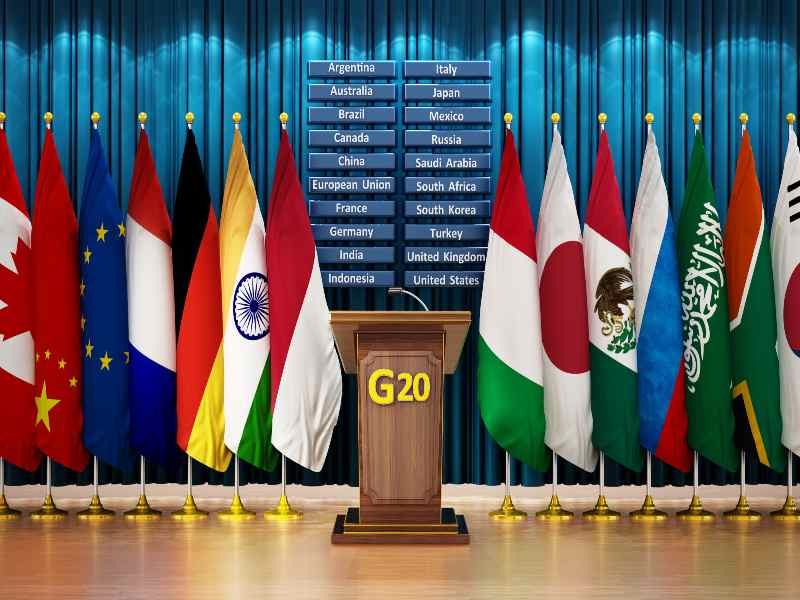 Image credit: [email protected]

No G20 government has implemented sufficient and concrete policies to match their promises to tackle climate change made at COP26 in Glasgow last year, according to a new report from research group BloombergNEF (BNEF).

Michael R Bloomberg, UN Secretary General's Special Envoy for Climate Ambition and Solutions, and Founder of Bloomberg LP and Bloomberg Philanthropies: "Words only matter if they're backed up with action – and the dangerous reality is, none of the G20 countries are delivering the emissions cuts they've promised fast enough."

The second edition of BNEF's G20 Zero-Carbon Policy Scoreboard report examines how climate rhetoric on the international stage is matching actions on the home front by the governments of the world's 19 largest nations, responsible for nearly 80% of global GHG emissions (the EU is the 20th G20 member). BNEF found that no G20 country has implemented sufficient policies to plausibly achieve deep decarbonisation, although 11 of the 19 nations did make progress in 2021.

"Russia's actions in Ukraine have brought new urgency to the push for clean energy, and it has been encouraging to see countries recognise the need to speed up their plans because we don't have a moment to waste. This report helps to provide transparency into countries' progress so that the public can hold leaders accountable, and highlights policies governments can deploy to reach and exceed the pledges they've made," said Bloomberg.

Some progress made by G20 countries to limit emissions

The Policy Scoreboard examines six major areas policymakers can address when seeking to limit GHG emissions. The G20 governments have made the most progress in implementing programs to decarbonise the power sector (policy area 1) and, to some extent, transport (area 2). But more policy support is needed to tackle the buildings (3) and industrial (4) sectors, and promote low-carbon fuels and carbon capture, utilisation and storage technologies (5) and the circular economy (6). The Policy Scoreboard also took into account countries' cross-sector policies and regulations, including fossil fuel subsidies, rules mandating corporate disclosure of climate risk, and carbon pricing schemes.

A total of 11 out of the 19 nations upped their total scores this year, with an average for the whole group of 52% out of 100% – up 1 point from last year's Policy Scoreboard. Hence, there remains plenty of room for improvement.

"Government pledges often get the headlines and promises made around COP26 last year were impressive," said BNEF head of policy Victoria Cuming. "But talk is cheap – none of the G20 countries has implemented sufficient concrete incentives and regulations to achieve what's been promised."

In terms of their scores, G20 countries fell into three broad categories: the first comprises EU member states, Germany, France and Italy, along with the UK, which improved their average total scores by 3 points compared with 2021. But with a mean average of 75% among them, even the top performers could do better.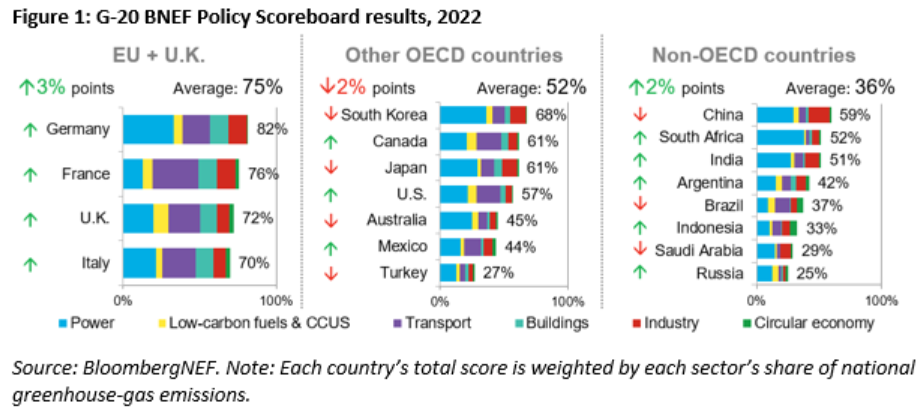 Turns out promoting energy independence is compatible with going green
Other OECD countries did not fare as well, notably Australia, Japan and Turkey. As a result, this group saw its total score decline 2 points, to an average of 52% – 25 points below the top performers. At the bottom of the G20 table, emerging economies lag in their domestic policy roll-outs, with an average total score of 36%. Still, this group did improve from last year – by an average of 2 points – led by India and South Africa.
The Policy Scoreboard is based on policies implemented by governments through the calendar year 2021. In the months since, energy security issues have become more top of mind for many governments in light of Russia's invasion of Ukraine. In fact, promoting energy independence can be compatible with actions to cut GHG emissions through more renewables, electrification, low-carbon fuels, CCUS and energy efficiency.
As highlighted by the latest report by the Intergovernmental Panel on Climate Change, man-made climate change is not going away: impacts are already "widespread", some are "irreversible" and as many as 3.6 billion people live in locations that are "highly vulnerable to climate change".
The BNEF Policy Scoreboard scored each G20 member out of 100% based on the volume of government support implemented to cut GHG emissions, the robustness of these programmes and the policy-making process and metrics to gauge whether they are starting to drive change on the ground.
Find out more about
BNEF's G20 Zero-Carbon Policy Scoreboard report
.
Climate goals and finance and the financing of the energy transition will be discussed at Enlit Africa.