Cornwall Insight's modelling for the Default Tariff Cap shows extreme volatility in the market, with Winter cap predictions jumping by over £200 from Wednesday (23 Feb) to Thursday (24 Feb) - only to fall again on Friday (25 Feb), before rebounding on Monday (28 Feb).

Despite the fall, predictions still show a Winter cap increase of nearly £500 on the already high prices due to hit customers in April, with average annual bills predicted to be around £2,500 from October.
The invasion of Ukraine by Russia was the reason behind Friday's jump in the cap predictions, with the tragic events unfolding in the country likely to continue to impact the cost of energy across Europe.
While the UK gets less than 4% of its gas from Russia, and is unlikely to have direct issues with supply, the reliance of much of Europe on Russian gas, means any price impacts will be felt across the entire European gas market.
Figure 1: Cornwall Insight default tariff cap forecasts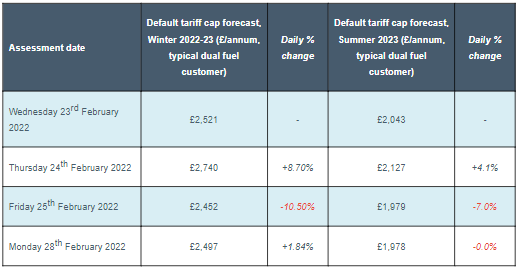 Source: Cornwall Insight
Dr Craig Lowrey, Senior Consultant at Cornwall Insight said:
"The tragic events currently unfolding in the Ukraine have had a deep effect on all of us, and it is essential that we keep the human impact of this conflict at the forefront of our minds. Our commentary is by no means to distract from the heart-breaking consequences of these events, but it is however sadly inevitable that the conflict will have wide ranging implications for all of Europe, not least on the supply of energy to the continent.
"The heavy reliance on gas imports across Europe and in the UK has left energy prices increasingly vulnerable to unstable international geopolitical and economic situations. With the potential supply disruption from Russia reverberating throughout the European energy market, volatile energy prices are likely to continue for the foreseeable future.
"While in the past the UK has attempted to shield consumers from global market price rises through the Default Price Cap, these unprecedented events will make setting a fair rate for suppliers and consumers even more challenging, with our predicted winter cap rate changing by over £200 from one day to the next.
"While questions are predictably turning to how we stabilise the energy market, with countries around Europe looking to rebalance their import rates and diversify the energy they use, it is clear, that in the short-term energy prices will continue in their upward trajectory. To mitigate the impact of rises on consumers and the wider economy, the UK government may need to reassess the level and scale of its financial support to households."