Hydrogen and carbon capture and storage (CCS) have been hailed as pillars of the energy transition, critical to achieving the global net-zero goals. As such, the interest in these two intertwined value chains has been picking up, evident through various projects and collaborations revealed this week.

As the interest in CCS is picking up across Europe, accelerating the deployment of CCS projects across the continent is at the forefront of the agenda, which will be spearheaded through a collaboration between Aker Carbon Capture and Northern Lights JV.

Aker Carbon Capture is a pure-play carbon capture company and the Northern Lights JV is composed of three energy giants, Norway's Equinor, UK's Shell, and France's TotalEnergies.

Together, Aker CC and Northern Lights represent a full value chain offering from carbon capture through transport and storage. The agreement between the two also seeks to optimise logistics and standardise ship-shore interfaces.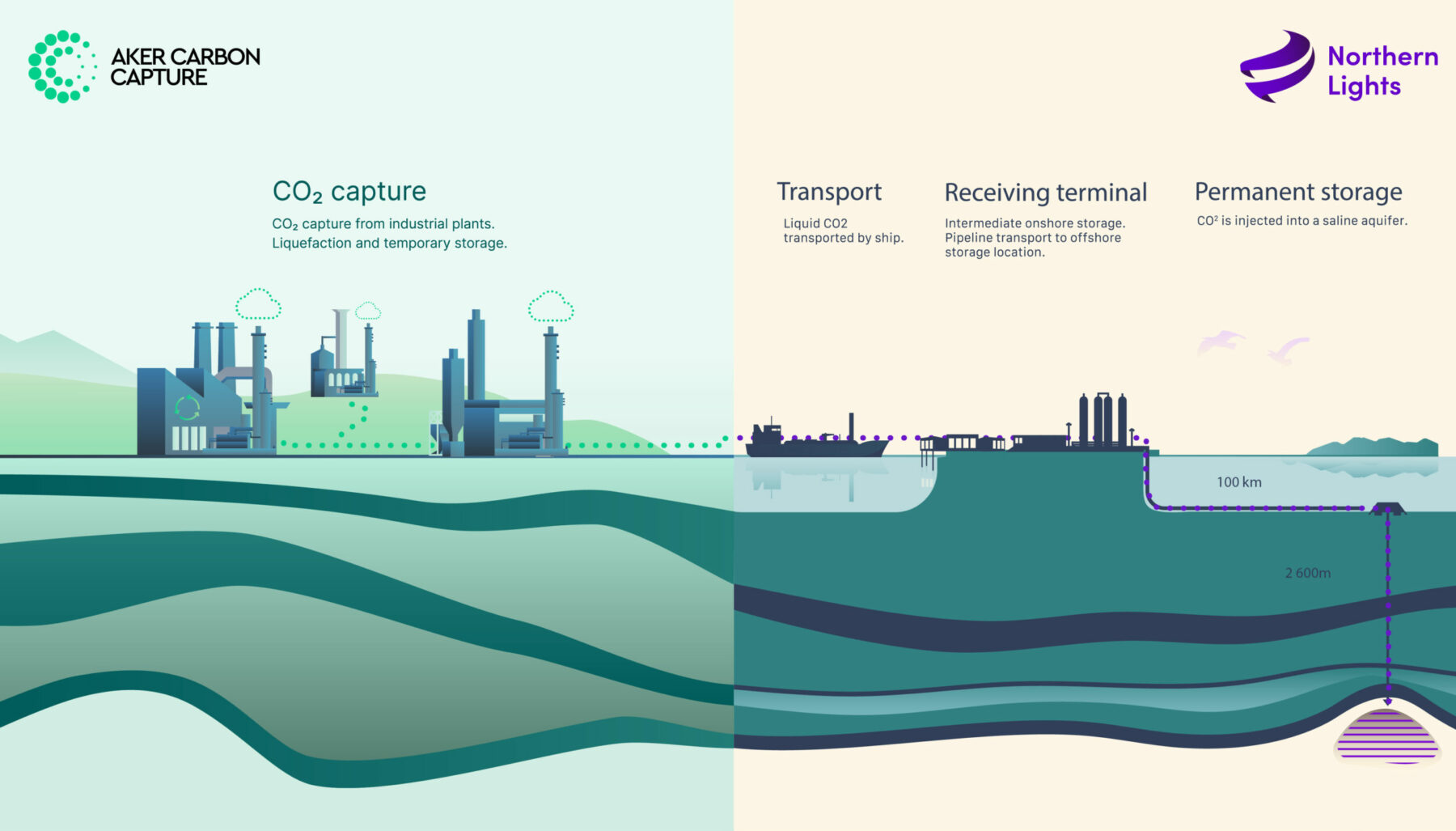 Aker Carbon Capture and Northern Lights value chain
Børre Jacobsen, Managing Director of Northern Lights JV, pointed out that realising the potential of the CCS market would require technical and commercial innovation as well as cross-sector collaboration.

Just last week, another oil and gas company, Italy's Eni, boasted a significant interest in CCS projects from the industry in the UK. To remind, Eni is one of the members participating in the development of the HyNet North West project, which stands to benefit from the location of Eni UK's infrastructure in the Liverpool Bay in the East Irish Sea.

However, while Eni is working to decarbonise, it did not go unnoticed that an oil spill incident left a mark on its operations this week following a pipeline leak, spilling hundreds of barrels of oil into the Irish Sea.

Over in the Netherlands, another collaboration has turned up with two players entering into an agreement for a project, which will help ramp up the country's hydrogen economy. Namely, oil and gas operator Neptune Energy and German energy company RWE have inked a joint development agreement with an aim to develop a green hydrogen project, which will use offshore wind energy for the production of hydrogen in the Dutch sector of the North Sea and an existing pipeline to transport the hydrogen to land.

The project, called H2opZee, is supported by the Dutch government and it aims to build 300-500 MW electrolyser capacity in the North Sea. The companies plan to have it up and running before 2030.

"The energy transition can be faster, cheaper and cleaner if we integrate existing gas infrastructure into new systems," said Neptune Energy's Managing Director in the Netherlands, Lex de Groot.

Speaking of offshore wind farms, a breakthrough in high voltage cables from the subsea cable supplier Nexans will enable it to offer reliable green solutions to its clients.

To reduce greenhouse gas emissions, Nexans chose Green Gas for Grid (g3) as an alternative gas to sulphur hexafluoride gas (SF6), which has a potent greenhouse gas behaviour and a global warming potential of about 23,000 times that of CO2. On the other hand, g3 is said to have a significantly reduced impact on the environment.

The French company has recently opened a high-voltage subsea cable plant in Charleston, South Carolina, from which it will deliver subsea cables covering the full range of needed products for export cables for offshore wind and subsea interconnections.

Over in Germany, a green hydrogen production company, named Hy2gen, is getting a cash injection of about $227 million for facilities producing green hydrogen-based fuels (e-fuels) for maritime and other transport. Founded in 2017, Hy2gen develops, finances, and operates green hydrogen production plants worldwide.

The investment is coming from several players, including Technip Energies, Hy24, Mirova, and CDPQ due to the conviction that hydrogen has a key role to play in the decarbonisation of the industry.

Classification society American Bureau of Shipping (ABS) shares this conviction and believes that both hydrogen and carbon capture are critical to achieving the net-zero. However, ABS is of an opinion that government support is a prerequisite to developing these intertwined value chains in time.