Bruce unit 7 has become the first nuclear power reactor in the world with installed capability to produce the medical radioisotope lutetium-177 (Lu-177). The isotope, which is used in the treatment of cancers such as neuroendocrine tumours and prostate cancer, will be produced from ytterbium targets irradiated in the reactor.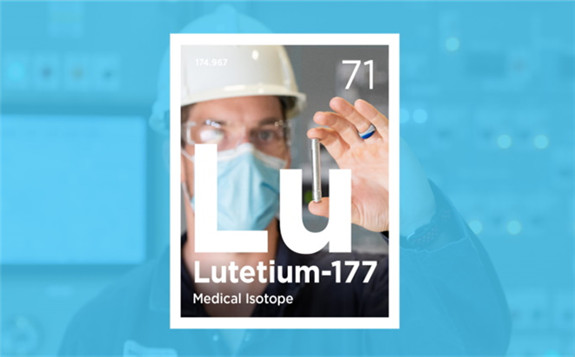 The isotope production system, or IPS, that has now been installed in the Candu reactor will be able in future to produce other isotopes for medical uses, Bruce Power said. The IPS has been designed by Isogen, a partnership of Kinectrics and Framatome and its installation is the latest step in a project that began over three years ago, when Bruce Power and ITG, a subsidiary of radiopharmaceutical technology company ITM Isotopen Technologien München (ITM), announced a joint effort to explore the production of Lu-177 at Bruce Power's Candu reactors.
Bruce Power will conduct the irradiation of ytterbium-176 targets in the IPS as a first step in the production of no-carrier-added Lu-177 (nca Lu-177). Processing of the irradiated targets for the production of nca Lu-177, as well as the global supply of the isotope, will be handled by ITM.
Activities will now shift to planned commissioning and preparation for the commercial production that will begin once these activities and regulatory submissions are successfully completed, Bruce Power said.
James Scongack, Bruce Power's chief development officer, described the installation of the IPS as a "milestone" towards the unit becoming the first power reactor in the world to provide a "scalable, game-changing solution" in medical isotope supply. "Our medical isotope program and the IPS installation are a result of years of innovation and development in partnership with Isogen, Saugeen Ojibway Nation, and ITM, and will provide large-scale capacity to help produce medical isotopes, which will be used across the world in new treatments to fight cancer," he said.
Bruce Power will market the new isotope supply in partnership with Saugeen Ojibway Nation (SON) through a project named Gamzook'aamin Aakoziwin, which includes an equity stake for SON and a revenue-sharing programme.
"From the initial concept in 2019 to production expected in 2022, our Gamzook'aamin Aakoziwin project is on track to meet an ambitious timeline to have isotope supply ready to meet the increasing demand from doctors and cancer patients around the world," said Chief Lester Anoquot, Chippewas of Saugeen First Nation. "Saugeen Ojibway Nation is proud of the part we have played and will continue to play in this project."