An increasing number of Chinese companies are operating in Turkey in the energy, construction and transportation fields in recent years with win-win cooperation, a recently released report said.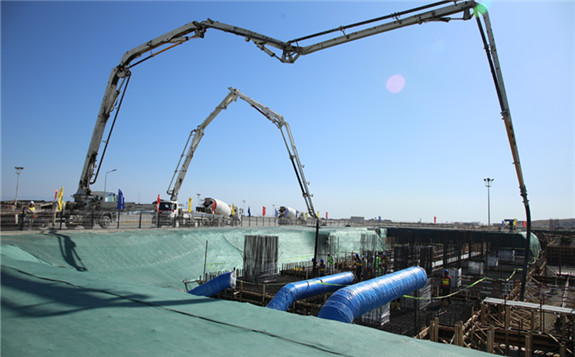 Chinese companies have been contributing to Turkey's sustainable development, dedicated to local photovoltaic projects, hydropower plants, natural gas storage facilities and railway construction in the country, said a report on sustainable development committed by Chinese companies in Turkey released by the State Power Investment Corp in Beijing in December.
The companies have been stepping up their presence in Turkey in accordance with China's Belt and Road Initiative, Zu Bin, board director of SPIC, said during the release of the report.
State Power Investment Corp, one of China's top five power producers, has vowed to increase its clean energy investment in Turkey. Its first solar energy investment in the country, the Adiyaman photovoltaic project, was built on top of a once barren mountain. The project has generated 71.6 gigawatt-hours of clean power since it was connected to the grid in December 2017, the company said.
SPIC also has a contract to build the Hunutlu Power Plant project in Turkey, the country's first thermal power plant without any flue-gas stack.
Equipped with advanced environmental protection and ultra-supercritical power generation techniques, the project is expected to have a capacity of 1.32 GW upon completion, including the construction of a power plant and ports designed specifically for coal transportation.
It is expected to generate 9 billion kilowatt-hours of power annually after the start of full operations, accounting for about 3% of the total electricity supply across Turkey.
The company saw its installed capacity for projects abroad reaching 6.65 GW by the end of November, with clean energy accounting for 73% of the total. Those under construction reached 2.41 GW. It expects its power generation capacity abroad will exceed 6 GW by 2021.
SPIC is not alone. Increasing numbers of Chinese companies have been leveraging their technology in Turkey in recent years to create a green trend for the future, with advanced technologies to create environmentally friendly projects in Turkey.
Construction of the Hunutlu Thermal Power Plant in Turkey's southern province of Adana began on Sept 22, 2019. It is China's biggest project with direct investment in Turkey, with a total investment of $1.7 billion.
Wang Yundan, former chairman of the Shanghai Electric Power Co Ltd, said its aim is to build a clean, reliable and efficient power plant, which is also expected to help boost the Turkish economy, increase employment and promote sustainable power generation.
China Tianchen Engineering Corporation has helped Turkey build a 1-billion-cubic-meter gas depository under Turkey's Lake Tuz with its state-run pipeline company Petroleum Pipeline Corporation (BOTAS). Turkey is keen on building the gas depository because of its current reliance on Russia, Azerbaijan and Iran for natural gas.
With Turkey's gas demand increasing daily, the project is needed to ensure the healthy management of natural gas.
Power Construction Corporation of China, also known as PowerChina, a leader in China's hydropower industry, has also been expanding its footprint in Turkey. It has nine projects under construction, including five hydropower stations and four thermal power projects with a cumulative contract worth up to $3 billion.
China National Chemical Engineering Co Ltd, one of the first batch of Chinese companies in Turkey, said it has also invested in several major chemical projects in the country, including construction of an underground gas storage facility which has a total contract value of up to $20 billion.
Analysts said Chinese companies have not only strengthened exchanges with local Turkish institutions to address practical problems and create a better environment, but also built ones beyond current standards.
Turkey's SMART solar energy project and the Hunutlu Power Plant project are undergoing accelerated adjustments to increase the proportion of new energies such as wind and hydrogen power to help create a low-carbon production unit, said Dong Guanpeng, a professor at Communication University of China.
In parallel with the progress made by Turkey on all economic and investment levels, especially in the past 10 years, Chinese investment in Turkey has seen a remarkable rise, accompanied by significant cooperation at the governmental level between Beijing and Ankara in terms of trade, tourism and industry, and investment in the transport sector, Dong said.