Government officials from Azerbaijan and Saudi Arabia attended on Thursday a groundbreaking ceremony for a wind power plant in Azerbaijan's Absheron and Khizi districts.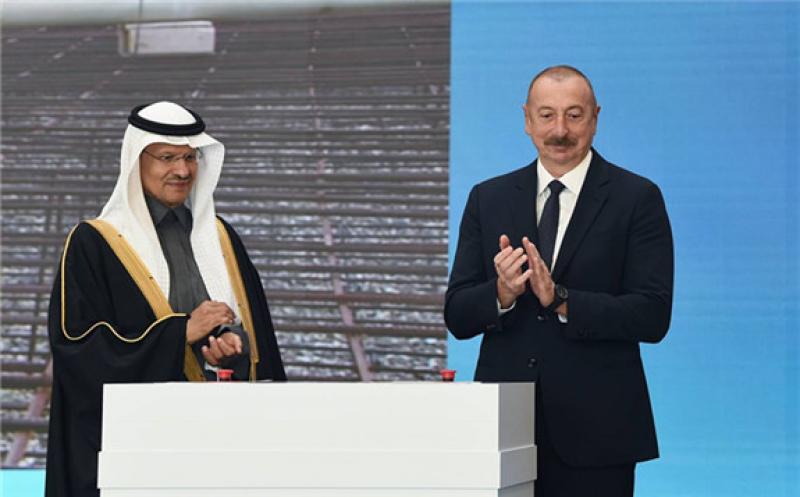 ACWA Power, partly owned by Saudi Arabia's sovereign Public Investment Fund, will reportedly invest $300 million in the project.
"This plant will be the largest power plant in the renewable energy sector in Azerbaijan," President Ilham Aliyev said at the ceremony.
"Its capacity is 240 megawatts, and, of course, as I said, it will contribute to the energy security of our country and create many jobs," he added.
The "Khizi-Absheron" wind power plant is expected to churn out 1 billion kWh of electricity per annum. Energy generated by the plant will reportedly be sold at 0.055 AZN or $0.032 per kWh.
The plant will be commercially operable in the third quarter of 2023.
In 2020, Azerbaijan's Energy Ministry and ACWA Power, an energy giant with 66 assets in 13 countries and a portfolio of 42.6 gigawatts of power generation, signed an implementation agreement to develop, build, and operate a wind power park in Azerbaijan. The project's power purchase agreement (PPA) spans over 20 years on a Build Own Operate (BOO) basis.
The "Khizi-Absheron" wind power plant is expected to support the Azerbaijani government's efforts aimed at diversifying the national energy mix by leveraging the country's rich renewable energy resources and strengthening energy security which relies primarily on fossil fuel reserves. Natural gas accounts for more than two-thirds of the country's overall domestic energy consumption, less than one-third of which is met by oil.
"Our continued collaboration will enable us to contribute towards driving the energy transition in this great nation and play an active role in achieving the ambitious vision of President Ilham Aliyev, the aim of which is to raise the share of green energy in the national energy mix," ACWA Power Chairman Mohammad Abunayyan said at the groundbreaking ceremony in Baku.
In the meantime, President Aliyev said the new wind farm would also help Azerbaijan to save natural gas reserves and reduce the adverse impacts on the environment. According to calculations, the Khizi-Absheron complex will help save up to 220 million cubic feet of natural gas and 400,000 metric tons of carbon dioxide annually.
The "Khizi-Absheron" wind power plant sits well with the Azerbaijani government's ambitions to increase renewables' share in the overall power generation.
Renewables are expected to make up 30 percent of the country's electricity generation by 2030. Estimates put the renewable energy potential of Azerbaijan at 37,000 MW, ten thousand of which has been unveiled after the liberation of the country's territories from the Armenian occupation in 2020.
The potential of wind power for enhancing the replenishable energy capability of Azerbaijan stands at 59.2 percent of the overall renewable sources, according to a report "Market Analysis Azerbaijan 2019" published by the German-Azerbaijani Chamber of Commerce.
Meanwhile, according to the same publication, solar power comes in at number two with a total of 8,000 MW potential. Biomass, geothermal, and hydropower (excluding large hydropower stations) are also introduced as promising renewables at 900 MW, 800 MW, and 650 MW, respectively.