South Korea continues to pave the way forward for hydrogen implementation into shipping with a consortium of industry leaders gaining an approval in principle (AIP) to develop a liquid hydrogen tank for ships.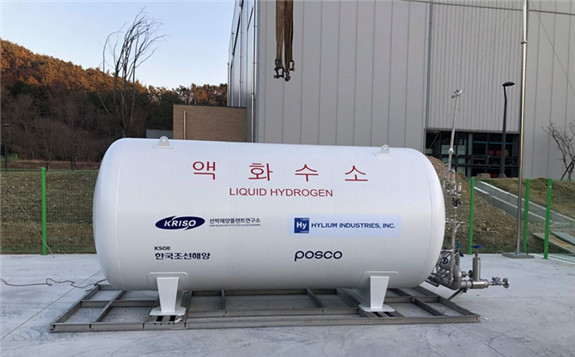 Revealed today (Jan 12), the AIP has been granted by the Korean register to Korea Research Institute of Ships & Ocean Engineering (KRISO), Hylium Industries (Hylium), POSCO, and Korea Shipbuilding and Offshore Engineering (KSOE) who have partnered for development of this key technology.
This could be a huge development for the hydrogen shipping industry not only in South Korea but also around the world with the technology set to showcase the potential liquid hydrogen has in decarbonising this crucial sector.
The Korean Register certified two types of the maritime liquid hydrogen fuel tank, one made of 316L stainless steel and one made of 316HN stainless steel material.
The 316L stainless steel is a common austenitic stainless steel that can be directly applied to the production of liquid hydrogen storage containers that need to be maintained at a temperature as low as -253°C.
While 316HN stainless steel developed by POSCO is a next-generation steel that further solves the hydrogen embrittlement problem commonly faced in production of liquid hydrogen storage containers.
With development for the liquid hydrogen ship set to continue with further research and development, KRISO, POSCO, KSOE, and Hylium Industries will continue to promote commercialisation of liquid hydrogen-powered ships through active advancement of developed technologies.
The alliance plans to demonstrate the new eco-friendly ships, as well as build an R&D shipbuilding infrastructure in Mokpo, Jeollanam-do, South Korea.
Seo Young Kim, CEO of Hylium Industries, said, "The future of hydrogen in maritime applications is very bright. We are honoured to aid the decarbonisation of the Korean shipbuilding industry and the development of the hydrogen economy in the country."