SK ecoplant unveiled the very first blueprint for its "circular economy" at the Consumer Electronics Show (CES) 2022 as part of its plans to reduce resource waste and curb pollution. The circular economy refers a system of closed loops in which raw materials, components and products lose their value as little as possible.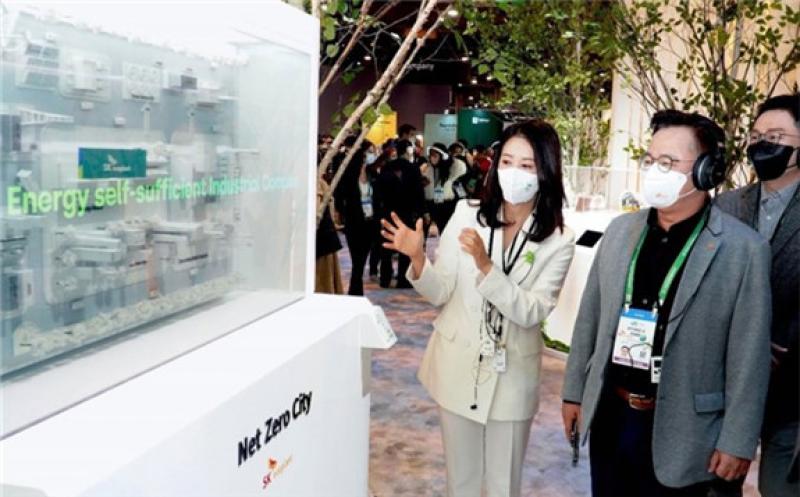 At the world's largest electronic and information technology exhibition held in Las Vegas from Jan. 5 to 7, the construction company introduced its "Net Zero City" initiative, an economic model that attempts to solve environmental and energy problems by utilizing waste and air pollution to make energy resources.
It was SK ecoplant's first time participating at CES along with SK Group's affiliates including SK Holdings, SK Innovation and SK hynix. They held a joint exhibition under the theme of "Accompany" to build a world without carbon emissions.
In its Net Zero City blueprint shown in a diorama 100 centimeters tall by 60 centimeters wide, SK ecoplant offered innovative environmental and renewable energy solutions utilizing the production of renewable energy-based green hydrogen and fuel cell power generation as well as waste energy.
In particular, the company will produce renewable energy with solar and wind power, at the same time converting leftover electricity into green hydrogen for use in supplying eco-friendly energy.
Also, SK ecoplant will convert air pollution such as syngas generated in sewage treatment plants in the process of incinerating waste and biogas, into energy via fuel cell power generation technology.
"What we have presented at CES is not something from the distant future, but a technology that is already being developed and adopted in real life. In the future, we will become Asia's leading environmental company that designs sustainable cities without producing pollution and completes renewable energy value chains with hydrogen and wind power," SK ecoplant CEO Park Kyung-il said.