The world will see the establishment of its largest trade bloc, the Regional Comprehensive Economic Partnership (RCEP), from the beginning of 2022, Chinese government officials announced on Thursday, a piece of news that not only brings hope after a year battered by the pandemic, but also marks a glorious victory of multilateralism and boosts trade prospects for countries in the Asia-Pacific region.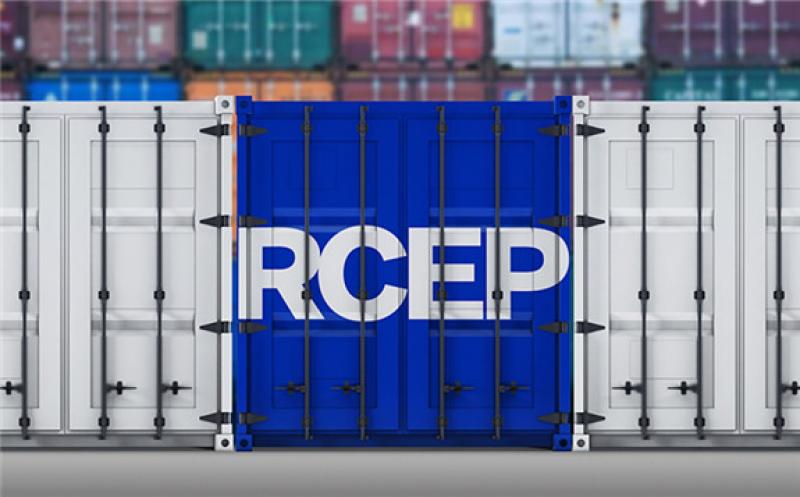 From customs officials and entrepreneurs to academics, China has been gearing up for the start of the mega trade pact, which will see tariffs end on more than 90 percent of the commodities traded in the region either immediately or in stages, with companies under the RCEP umbrella holding high hopes for incremental investment and trade as a result of the agreement.
So far, China has been making preparations to implement all 701 binding obligations stipulated in the agreement, Vice Minister of Commerce Ren Hongbin said on Thursday during a press conference, stressing that the rolling out of the general market under the RCEP agreement will effectively offset the negative impact brought on the economy by the pandemic.
The RCEP, which will come into effect on January 1, 2022 and cover a market amounting to 30 percent of the world's GDP, marks the formation of the world's largest free trade zone in terms of trade volume or population.
The agreement will come into effect initially for 10 countries - six Association of Southeast Asian Nations (ASEAN) economies including Laos, Thailand and Singapore, as well as four non-ASEAN members: China, Japan, New Zealand and Australia. In total, 15 Asia-Pacific countries signed the RCEP agreement in late 2020.
"I hope that with the full implementation of the RCEP, trade facilitation cooperation will improve… and I very much think and hope that the cooperation between Indonesian and Chinese businesspeople will develop, expand and be sustainable in the future, so that both parties can gain mutual benefit," Indonesian Ambassador to China Djauhari Oratmangun told the Global Times in an exclusive interview on Thursday.
High expectations
Officials and companies reached by the Global Times applauded the arrival of the RCEP, as most saw the tariff decrease as the main benefit brought by the event, and many are also looking to maximize economic gains from the FTA through increased market openness and investment as well as government efforts to ensure smooth implementation of the deal, including logistics coordination.
Asked about what Indonesian businesses care most about in the RCEP, Oratmangun said it is about how much benefit RCEP can bring for the growth and development of the business community, including opening of new markets and enhancing of foreign direct investment.
Oratmangun said that expanding market openness through various FTAs would bring additional economic gain for businesses and the increasing investment in many areas would help foster new industries and development.
"New investment is the key to the establishment of new industries. This agreement is expected to boost FDI growth in new industry sectors that can utilize the RCEP's potential as a global region with a 2.2 billion population," Oratmangun said.
Ran Manjun, sales manager of Laos-based tea company Lao Three Six Manor Trade Export-Import SOLE CO, told the Global Times on Thursday that the biggest benefit from the RCEP is the tariff cut, which is very important for the company as it sells high-end products and faces relatively high production costs.
"We expect that the tariff cuts coming with the launch of RCEP can help reduce our costs. Furthermore, we definitely hope there will be more supportive policies for scrapping tax on top of the RCEP rules," she said.
In terms of transportation, she said the company also hoped that more centralized warehousing and logistics could be established at ports or free trade zones, which would be much more convenient for exporters.
"It would be great if all import documents and procedures could be handled and tracked online, so that we can follow adjustments in policies and regulations closely," she added.
Information disclosed by Chinese government departments shows that things are indeed moving in the direction that global exporters are hoping for.
Chinese Ministry of Commerce (MOFCOM) spokesperson Gao Feng said on Thursday during a press conference that starting from January 1, more than 65 percent of the goods traded between China and ASEAN members, Australia and New Zealand will be tax-free. Furthermore, 86 percent of goods exported from Japan to China will eventually be tax-free, while the same will apply to 88 percent of products exported from China to Japan.
As for logistics and policy convenience, Chinese government departments are also beefing up efforts to help companies understand the RCEP rules. For example, customs authorities in South China's Guangzhou organized a meeting to elaborate on RCEP policies for local traders on November 30, according to a document sent by the Guangzhou customs to the Global Times on Thursday.
China is also actively pushing for the expansion of free trade zones, which usually contain logistics facilities such as warehouses.
Economic catalyst
From boosting trade and stimulating investment to driving services and industrial cooperation, both experts and government officials are holding high hopes for the gains that the agreement will bring to the Asia-Pacific economy, now that the agreement provides a regional framework under which businesses will be carried out in a more economically efficient manner.
One of the most prominent benefits is the incremental trade scale that the RCEP could lead to. For example, Glenn Penaranda, special trade representative and commercial counselor at the Embassy of the Philippines in Beijing, previously told the Global Times that he anticipated China-Philippines trade could receive a significant jolt as a result of the trade agreement, particularly for products such as fruit, seafood, coconuts, electronics parts and minerals.
Zhao Gancheng, director of the Center for Asia-Pacific Studies at the Shanghai Institute for International Studies, also said that trade ties between ASEAN economies and China are expected to grow closer, with China likely to import more agricultural products from ASEAN members while exporting more consumer goods.
"The pact might offer some help to Southeast Asian nations' energy exports to China, such as palm oil from Malaysia or coal and natural gas from Indonesia," Zhao told the Global Times.
Furthermore, enhanced economic ties among RCEP countries could also bring about surging investment in the region, experts and officials predicted, as the lowered trade costs could facilitate investment projects such as those in the Belt and Road Initiative (BRI).
"As the trade tariffs on a number of bulky commodities like steel could be lowered as a result of the RCEP, it would further lower the cost of BRI projects," Zhao said.
In terms of FDI, Oratmangun said the RCEP provides the opportunity to enhance e-commerce trade among RCEP members, while policy space is given to the government to manage policy development in this industry, especially when it relates to the public sector.
"The success of a country in developing its digital economy will provide opportunities for ... small businesses, farming businesses, and creative individuals from remote areas and foster the development of the factory sharing economy. It will enable countries like Indonesia to meet RCEP market demand," he said.
Furthermore, some experts stressed that implementation of the RCEP could help the industrial chains in the RCEP region extend and cooperate better.
"For example, it's possible that Southeast Asian countries like Vietnam will participate in the existing wool processing supply chain, with Australia providing wool material, China processing semi-finished fabrics, Vietnam making them into clothing, and Europe or the US becoming the end client," Gu Xiaosong, dean of the ASEAN Research Institute of Hainan Tropical Ocean University, told the Global Times on Thursday.
Gu predicted that with stimulus provided by the implementation of RCEP, China's GDP growth could increase by 1 or 2 percentage points in 2022.
Unswerving opening-up
The active pushing and participation in the RCEP is another example of China being a faithful opening-up promoter, as the country accelerates the opening of its economy through multiple efforts that have been rolled out recently, ranging from shortening its negative list for overseas investors to applying for membership of more regional multilateral trade bodies.
In September, China officially applied to join the Comprehensive and Progressive Agreement for Trans-Pacific Partnership (CPTPP) and has vowed to provide profitable business opportunities for every CPTPP member looking to access the Chinese market and strive for growth in trade and investment.
The country has also filed a formal application to join the Digital Economy Partnership Agreement (DEPA) in November to facilitate economic engagement and trade in the digital era.
Experts said that China could become an engine for global economic recovery after the implementation of the RCEP, given that the pandemic situation will ease in 2022.
"The door to China's market will open even wider in 2022, with efforts such as further precision of the negative list and expansion of free trade zones. The country is well-prepared to become a driving force for the global economic rebound next year," Zhao Gancheng, director of the Center for Asia-Pacific Studies at the Shanghai Institute for International Studies, told the Global Times.
Gu Xiaosong also noted that as the pandemic wanes, it's possible that cross-border travel between China and overseas countries could largely return to normal by the end of 2022, and an inflow of overseas capital is to be expected as a result of the RCEP stimulus.
"Despite obstacles like the protectionism trend and US crackdown measures, China will not slow down in opening up its market. And as long as China's market is open, overseas companies will surely come as a result of the appeal of China's huge market. There's no turning back in terms of economic integration and globalization," he said.