Tractebel has developed an offshore infrastructure and processing concept for the storage of hydrogen in offshore underground salt caverns.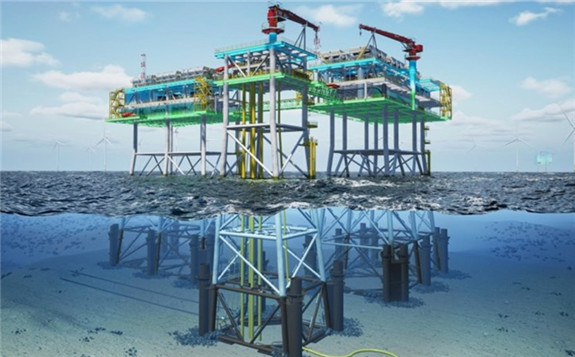 The Belgian engineer's design study outlines an innovative solution for large-scale hydrogen storage using a scalable offshore platform for the compression and storage of up to 1.2 million metres cubed of hydrogen.
The study assumes a capacity equivalent to converting 2GW of green offshore wind power into hydrogen, Tractebel said.
Underground salt caverns will be used as storage and buffer for the hydrogen produced offshore, before the gas is transported via the pipeline network to the onshore grid and finally to consumers and customers.
The newly designed storage and compressor platforms process 400,000 Nm3/h of hydrogen, which is stored in underground salt caverns at a pressure of up to 180 bar.
These storage facilities buffer production peaks, optimise flow rates and therefore enable a more economical design of the export pipeline.
Tractabel said that the North Sea is well suited for the solution due to its geological conditions and underground rock salt formations.
Caverns are leached in these formations to create large storage volumes.
The offshore platform complex consists of a wellhead platform for the operation of the caverns and a series of compression platforms that enable a staged increase in capacity and if required the plant can also be expanded in the future by additional modules.
Tractebel said that current hydrogen production technologies will only make an effective contribution to the global energy transition if production rates reach an industrial scale.
It added that enormous amounts of hydrogen from renewable sources will be required to supply future hydrogen energy demands and offshore sites are key to industrial-scale production.
Tractebel Overdick director of business development Klaas Oltmann said: "Centralised offshore hydrogen hubs also facilitate the integration of smaller-scale hydrogen production, which is to be expected within the scope of capacity expansions while re-powering offshore wind farms in the future.
"At the same time, they offer an economically viable option, as the export and compression of hydrogen produced offshore can be bundled.
"This significantly reduces the overall costs for future projects."