Support for nuclear energy in Poland is overwhelming with 78% of people supporting the technology as a response to climate change, according to opinion polling. It comes as the country experiences a series of developments towards nuclear deployment.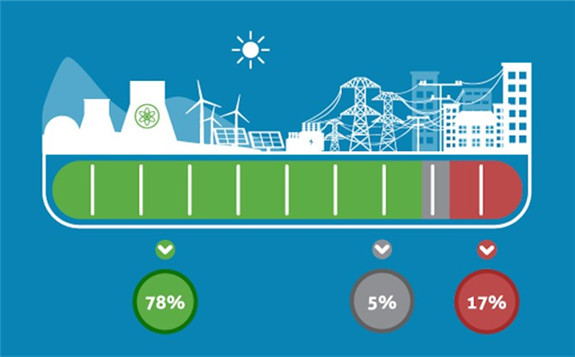 "These are the best results in the history of research carried out since 2012," said Poland's Ministry of Climate and Environment, which commissioned the annual poll. The market research company DANAE used the CATI method to find the views of a representative group of 2148 people aged 15 to 75 years of age during November.
Results indicated that 74% of people support nuclear power plants in Poland, with 20% opposed. This was an increase in support of 11%, the government noted.
A similar increase was found among people who would be supportive of a nuclear power plant in their area. Some 58% said they would support this, up from 46% last year, with 39% opposed.
These results come in the context that 80% of respondents said they had heard of plans to introduce nuclear power to Poland.
Constructing nuclear power plants in Poland was "a good way of fighting climate change" agreed 78% of people, with only 17% in disagreement.
A large majority of 82% said that building nuclear power plants would be a good way to increase Poland's energy security, which the government noted was up 9% from last year.
Energy prices have been high across Europe through the last quarter of 2021 as the economic recovery from the COVID-19 pandemic collided with low stocks of gas. At the same time, Poland has seen a series of positive developments in nuclear energy.
Run of developments
In September it was announced that six new large reactors could be built by 2040 as part of Poland's plan to reduce its historic heavy reliance on coal, which is incompatible with climate commitments. EDF of France submitted an offer to supply six large EPR reactors in October, and Westinghouse has stepped up its engineering centres in Poland.
Separately Polish heavy industry is embracing small reactors as a way to avoid burning coal for process heat and power. Chemical producer Synthos has established a subsidiary which has right to develop projects around GE-Hitachi's BWRX-300, and is working with chemical producers PKN Orlen and Ciech on the potential for the BWRX to replace coal at their plants. Synthos is also working with power company ZE Pak to examine whether BWRX-300s could replace coal at the Pątnów power plant.
NuScale is working with liquid fuel supplier Unimot and USA-based Getka to explore whether its power modules could be used instead of coal. NuScale also has a similar project with KGHM Polska Miedź SA and Piela Business Engineering.