Leading Saudi builder Nesma & Partners has announced that it has signed a MoU with French group Bouygues Travaux Publics to implement all civil and construction works at the first potential nuclear plant to be built in Saudi Arabia.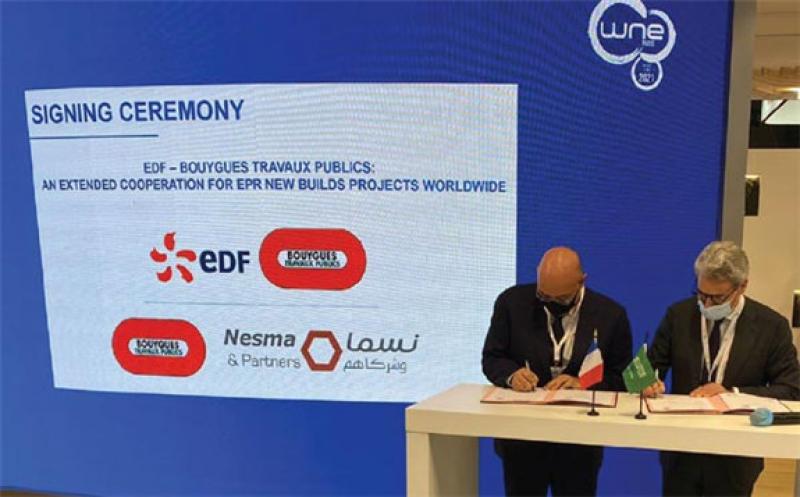 The MoU was signed by the two at the World Nuclear Exhibition (WNE 2021) held in Paris, France.
Bouygues Travaux Publics has entered into a framework agreement with French power giant Electricité de France (EDF) for global cooperation on future projects based on European Pressurized Reactors (EPR) technology.
Designed by top French nuclear reactor maker Areva, EPR is the world's largest reactor model with a capacity of 1,600 MW.
The kindom's Saudi National Atomic Energy Project (SNAEP) includes the installation of a reactor with an electrical capacity of 1200-1600 megawatts to support with the base load in the electrical grid throughout the year.
Apart from the debut Saudi project, the Bouygues Travaux Publics-EDF venture is looking to implement similar projects in India, Czech Republic and Poland.
According to EDF, these agreements demonstrate both groups' shared ambition to enhance their long-standing co-operation on the export market, with Bouygues Travaux Publics confirming its commitment as a historic partner of EDF's new nuclear EPR projects.
The French electricity major is actively engaged in the promotion of its unique nuclear reactor technology portfolio, services and know-how, highlighting its capabilities throughout the whole nuclear lifecycle from engineering, construction, operations and maintenance, training and skills development to decommissioning and waste management activities, said its top official.
"The signatures of these industrial co-operation agreements clearly demonstrate the growing interest of many countries in nuclear energy and our ambition to secure robust partnerships with local supply chains for EPR projects worldwide," remarked EDF Chairman and CEO Jean-Bernard Lévy.
"As a matter of example, the significant involvement of the British supply chain for the Hinkley Point C EPR project is a tangible result of our long-term strategy with the local industry," he noted.
"We envision the same approach in any country where we promote our technologies and I look forward to seeing these cooperations materializing for the successful delivery of future EPR projects in Europe and worldwide," he added.