Global powers are poised to sit down with Iran to negotiate its nuclear program — for a seventh time.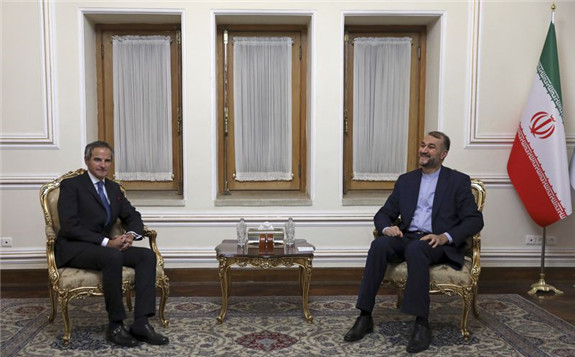 Talks between Iran and the U.S., European countries and China were slated to resume Monday in Vienna.
The seventh round of meetings with Iran comes as Tehran has made no secret of boosting its ability to develop a nuclear weapon.
Both U.S. and Iranian leaders have said they want to bring back a 2015 deal in which Iran got sanctions relief in exchange for limiting its nuclear program. Former President Donald Trump pulled the U.S. out of the agreement and reintroduced sanctions in 2018.
Since then, Iran elected a hard-line president, Ebrahim Raisi, who has stepped up demands. He wants the U.S. to unfreeze $10 billion in assets as a show of good faith.
Meanwhile, Iran's nuclear program has come under a series of attacks, including the assassination of a top scientist, NPR reported. Israel is believed to be behind the campaign.
Although European leaders have voiced optimism that a deal can be reached, the Biden administration has been far more cautious.
"We are still hopeful that diplomacy can find a way," Brett McGurk, the National Security Council's coordinator for the Middle East and North Africa, said recently. "But if it cannot find a way, we are prepared to use other options."
Last week, the head of the United Nations' nuclear watchdog warned that inspectors were close to being unable to "guarantee" they know what's going on at all of Iran's nuclear sites.
The International Atomic Energy Agency said inspectors were unable to access surveillance footage and face greater challenges trying to monitor Tehran's rapidly growing uranium stockpile, some of which is now enriched up to 60% purity — a short technical step from weapons-grade levels of 90%.