IAEA Director General Rafael Mariano Grossi received the Alumnus of the Year 2020 Award at the Graduate Institute Geneva on Saturday, where he discussed the vital role of nuclear energy in support of climate goals and the mandate of the IAEA to promote the safe and secure use of nuclear technologies.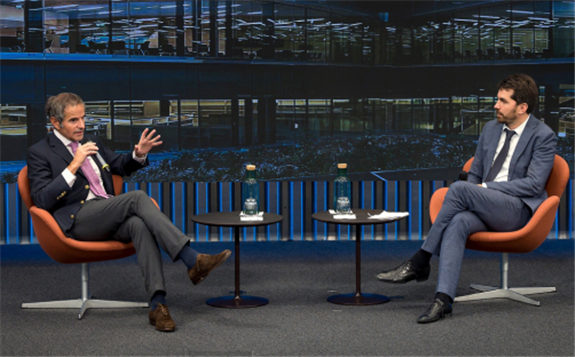 Mr Grossi, who earned his PhD in International History from the Institute in 1997, thanked the Director of the Institute, Marie-Laure Salles for the invitation.
Nuclear energy faces some challenges, but also provides many opportunities – especially as an important tool in the fight against climate change, a problem confronted by all countries today, he said.
"Nuclear energy is bound to continue to play a role for quite a long time. We promote their safe and secure use. It is through our safety standards that the IAEA sets for these activities that countries must work. And the same applies to security," he told attendees of the 8th Annual Alumni Reunion of the Institute in Switzerland.
In 2019, fossil fuels – the dominant cause of global warming – still produced 63% of electricity generated worldwide. The need to shift to a low-carbon energy future is on the European and the global agenda. Nuclear, along with renewable energy, can mitigate the release of greenhouse gases into the atmosphere.
Though some countries are moving away from nuclear power, others such as France and Sweden have decarbonised almost all their electricity thanks to nuclear, along with hydropower. These countries ahead of most others in meeting the United Nations Climate Goals, Mr Grossi said.
Around the world, 50 reactors are under construction and about 30 countries are embarking on or considering introducing nuclear power. Based on their current national plans, 10 to 12 newcomers to nuclear power are expected by 2035. The IAEA helps make this possible. It helps countries assess their individual situations. Since 2009, 32 such analysis missions and follow-ups have been conducted in 22 countries.
The Intergovernmental Panel on Climate Change have concluded that without nuclear energy, you simply cannot manage to reach the climate goals set out by the United Nations. "Nuclear is part of the solution, it's not the panacea, of course, but it's an important part of the solution because, especially in big economies, it has a very important footprint in terms of energy," said Mr Grossi.
The IAEA also assists countries in safely extending the lifetime of their nuclear power plants through peer review services and publications; as well as through training and assistance in improving plant life management. It also plays a role in providing the expertise in spent fuel and waste management to make sure nuclear waste is handled safely and securely.
In closing, Mr Grossi outlined the work of the IAEA: "At the end of the day, it is about a multilateral approach, which is science based, which has policy and normative dimensions as well […] and which as I say, is trying to be an effective tool to address these challenges we have – pandemics, climate energy, and matters of war and peace."