Atomenergomash is in the process of manufacturing the reactor pressure vessel for Turkey's new Akkuyu 3 reactor. Improvements to hand-held cutting tools have cut the time of some jobs by 75%, it said.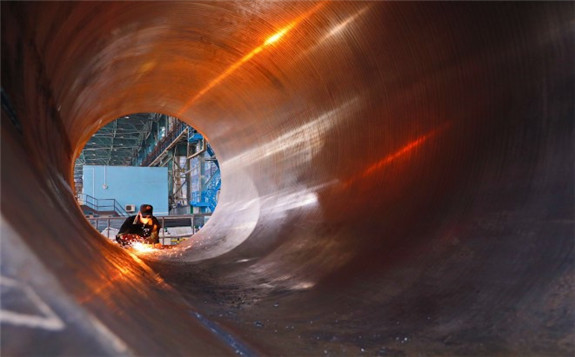 The elliptical bottom of the reactor vessel for a VVER-1200 unit is made in several stages from a seamless forged billet in the form of a tube 6 metres long, with an outer diameter of 2.5 metres, and weighing 96 tonnes.
Workers execute a series of cuts in the 300 mm thick metal according to guides placed inside the piece using cutting torches that burn natural gas and oxygen. Atomenergomash said that experts at its Volgodonsk plant "have improved the type of cutter nozzle, and now the cutting is four times faster: two hours instead of eight."
The metal workpiece is then sent to a thermal furnace for annealing to restore its strength. It is held in an oven for five hours at a temperature of 620°C, Atomenergomash said. After the control measures, the final stage in manufacturing is heat-pressing, where the pipe will first be unbent and then stamped.
Russia's state atomic energy corporation Rosatom is building four VVER-1200 reactors at Akkuyu, under a so-called BOO (build-own-operate) model. Construction of the first unit began in 2018, with startup planned for 2023. The 4800 MWe plant is expected to meet about 10% of Turkey's electricity needs.