Renewable power developer Pattern Energy is nearing completion of a mammoth wind project in east central New Mexico that, once fully operational in December, will constitute the largest single-phase renewable energy build-out in U.S. history.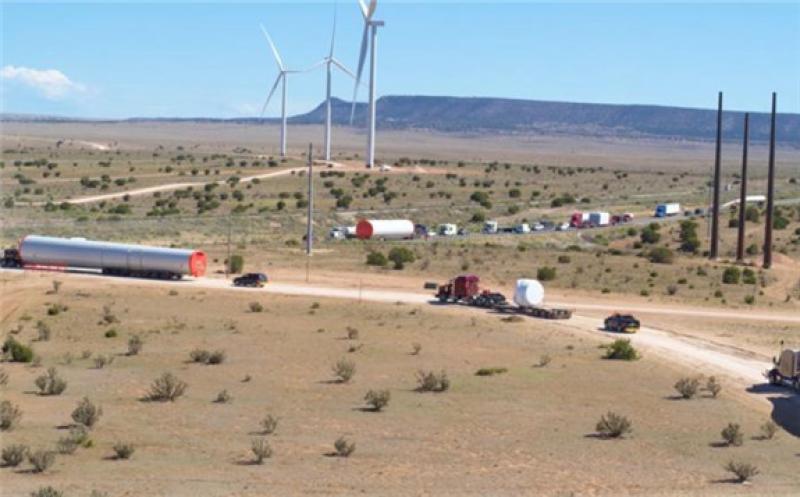 The company broke ground last December on its Western Spirit project, which includes four wind farms with 1,050 megawatts of joint generating capacity, plus a new, 155-mile transmission line that will carry the electricity from New Mexico's gusty eastern plains to California markets.

At more than 1 gigawatt, the Western Spirit farms will be twice the size of Xcel Energy's 522-MW Sagamore Wind Farm in Roosevelt County, which was pegged as the state's largest wind facility when it came online last December. Likewise, the new Western Spirit transmission line is the biggest such project to be constructed in New Mexico in 35 years.

To be sure, there are bigger renewable-generation facilities currently operating in the country, said Pattern Energy spokesman Matt Dallas.

"But those other facilities were all built in stages over time," Dallas said. "Our project is the largest one getting built all at once in U.S. history."

In general, although electric consumption varies by state and size of homes, 1,050 mW of generating capacity can provide enough electricity to meet the needs of roughly 365,000 homes, Dallas said.

Nearly all the electricity will be sold to California utilities under long-term power purchase agreements, or PPAs. That includes the Los Angeles Department of Water and Power and the city of San Jose in Northern California.

The company also signed a 15-year PPA last May with Uniper North America, which will buy up to 219,000 mW hours of electricity annually, or enough to power about 20,000 homes per year. Uniper North America – a Chicago-based subsidiary of the European company Uniper – will sell most of the electricity to end users in New Mexico.

Both the transmission line and the wind farms are now about two-thirds complete, said Jeremy Turner, Pattern's New Mexico project development director. The transmission line will be finished by November, and the wind farms will be fully commissioned by the end of December.

"We're about 90% complete with constructing all the transmission foundations, and about 70% of the transmission structures themselves," Turner told the Journal. "… Most of the (wind farm) turbines are now installed as well. We have less than 70 to go out of a total of 377 turbines."

Pattern is investing nearly $1.8 billion in the project. It's employed more than 1,000 construction workers since last year. And once operational, the transmission line and the wind farms together will provide about 100 permanent jobs.