Romania and the USA have started cooperation work towards the expansion and modernisation of the Cernavoda nuclear power plant. A working meeting last week followed a series of strategic agreements by Romania.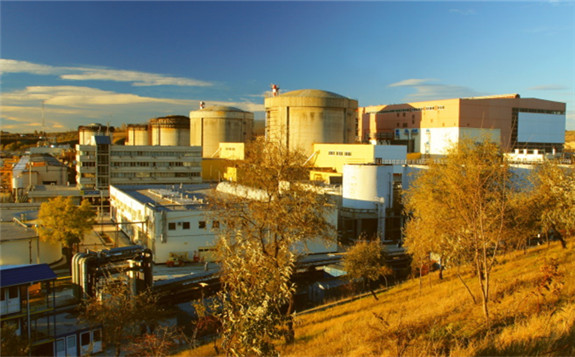 The owner of the Cernavoda plant, Nuclearelectrica, announced on 30 July that a working meeting had begun with a delegation from the US Department of Energy (DOE). This was led by Kathryn Huff, the acting assistant secretary and principal deputy assistant secretary. The company said the visit, "envisages the continuation of cooperation" based on an agreement the two nations signed in Washington, DC in October 2020 and which has since been ratified by both sides.
Nuclearelectrica explained its three-part strategy to complete two partly constructed reactors at Cernavoda. First, a 24-month preparatory stage would see legal and financial services contracted "to shape the project". Next, preliminary works lasting 18 to 24 months would see an engineering procurement and construction contractor "carry out the critical engineering part of the project and [prepare] the nuclear safety documentation." Last would come the actual construction phase, lasting 69-78 months.
"Based on these stages of realisation, it is estimated that unit 3 will enter into commercial operation in 2030, and unit 4 in 2031," Nuclearelectrica said. This fits with previous announcements that placed "site mobilisation" in around 2024.
Nuclearelectrica CEO Cosmin Ghită, said, "The Romanian energy system needs resilience and sustainability, and the expansion of nuclear capacity in Romania, in the context of the current transition to a clean economy, responds to these needs."
Romania has also been discussing the project with France, signing a declaration to cooperate in nuclear energy in October 2020. Announcements made at the time envisaged Romania and France working together with other strategic partners and encouraged French investment in Romania.
The US cooperation with Romania was described by the DOE as laying the foundation "for Romania to utilise US expertise and technology with a multinational team building reactor units 3 and 4 of the Cernavoda nuclear power plant and refurbishing reactor unit 1."
Cernavoda is Romania's only nuclear power plant. It has two operational Candu-6 units that provide up to 20% of the country's electricity. As well as completion of units 3 and 4, Nuclearelectrica is working with Candu Energy, part of Canada's SNL-Lavalin Group, towards extending the operational life of unit 1 until 2026 when it would undergo a full refurbishment. Similar work has been completed, or is in progress, at several Canadian Candu units.
Ghită said that expanding Cernavoda "leads to economic and social growth and supply chain development" including the creation of 19,000 indirect jobs. The expanded power plant would avoid 20 million tonnes of CO2 emissions per year, he said.