Power generation company JERA Co. said Monday it will start using ammonia as a fuel at a coal-fired power plant in central Japan as part of a four-year test project starting in June toward reducing carbon dioxide emissions.
It is the world's first demonstration project to co-fire a large amount of ammonia at a large-scale commercial coal-fired plant, according to JERA, a joint venture between Tokyo Electric Power Company Holdings Inc. and Chubu Electric Power Co.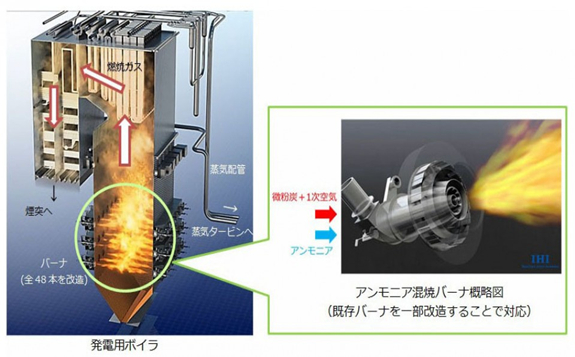 Ammonia, which does not emit CO2 when burned, is seen as a viable alternative fuel in thermal power generation as Japan is ramping up efforts to bring CO2 emissions to net zero by 2050.
Under the project from June to March 2025, JERA will carry out a small-scale experiment with ammonia between August and December this year using burners at Unit 5 of the Hekinan thermal power station in the central Japan prefecture of Aichi.
By the end of the project, JERA and industrial machinery maker IHI Corp. aim to use the mixed fuel with an ammonia content of 20 percent at the same power station's Unit 4 which has a power generation capacity of 1 gigawatts.
Thermal power generation has played a key role in Japan where most of its nuclear power plants remain offline following the 2011 Fukushima Daiichi accident. TEPCO is the operator of the crippled nuclear power plant.
The Japanese government is seeking to reduce dependence on fossil fuels and boost the use of renewables.
In line with the government's carbon neutrality goal, JERA is working to reduce CO2 emissions from its businesses at home and abroad to zero by 2050.