Strong consumer demand, lower-than-expected temperatures across northeast Asia and a severe shortage of prompt LNG supplies and spot tanker availability have combined to send northeast Asian spot LNG prices to an all-time high — just nine months after hitting record lows.
The front half-month ANEA price surged to $21.785/mn Btu for first-half February on 6 January, surpassing the previous record of $20.40/mn Btu on 4 February 2014. The price has risen by $5.35/mn Btu, or around 33pc, since the start of the year; by 170pc from the assessment of $8.065/mn Btu on 4 December; and is up 13-fold from its unprecedented low of $1.675/mn Btu on 30 April.
Wowsers. We were under $2 a few months ago!
There is one factor here not mentioned. It is China's trade war on itself:
China imported a record high monthly volume of liquefied natural gas (LNG) in December, overtaking Japan as the world's top importer of the fuel for a second consecutive month, ship tracking data from Refinitiv Eikon showed on Tuesday.
China imported 7.198 million tonnes of LNG in December, up nearly 16% from November, while Japan shipped in 6.574 million tonnes last month, up nearly 7% from the previous month, the data showed.
China only slightly overtook Japan's volumes of LNG imports for the first time in November, but greatly exceeded its neighbour's volumes in December, according to the data.
Recall that China has blocked Australian thermal coal, sending its own populace under the doona:
Amid its coldest winter since 2013, China shows no sign of thawing its coal impasse with key supplier, Australia. Beijing's insistence on avoiding Australian coal is leading to blackouts in many parts of China over the past fortnight.
Relations between Canberra and Beijing have soured in recent months after Australia called for international probes into the origins of the Covid-19 pandemic, leading the government of Xi Jinping to ban a range of Australian products including coal.
Remarkably it has emerged that there were no coal shipments bound for China from two major Australian ports, Gladstone and Newcastle, throughout the whole of November and December, and no sign that China is relenting on the issue in the first week of 2021.
The trade tension also sees around 80 ships and more than 1,100 seafarers stranded off China's coast.
"China's thermal coal market is in chaos, with prices rocketing after daily price index releases were suspended on 3 December," research firm Wood Mackenzie said in a recent report.
LNG is a direct coal substitute and China just can't get enough of it to replace the Aussie volumes lost: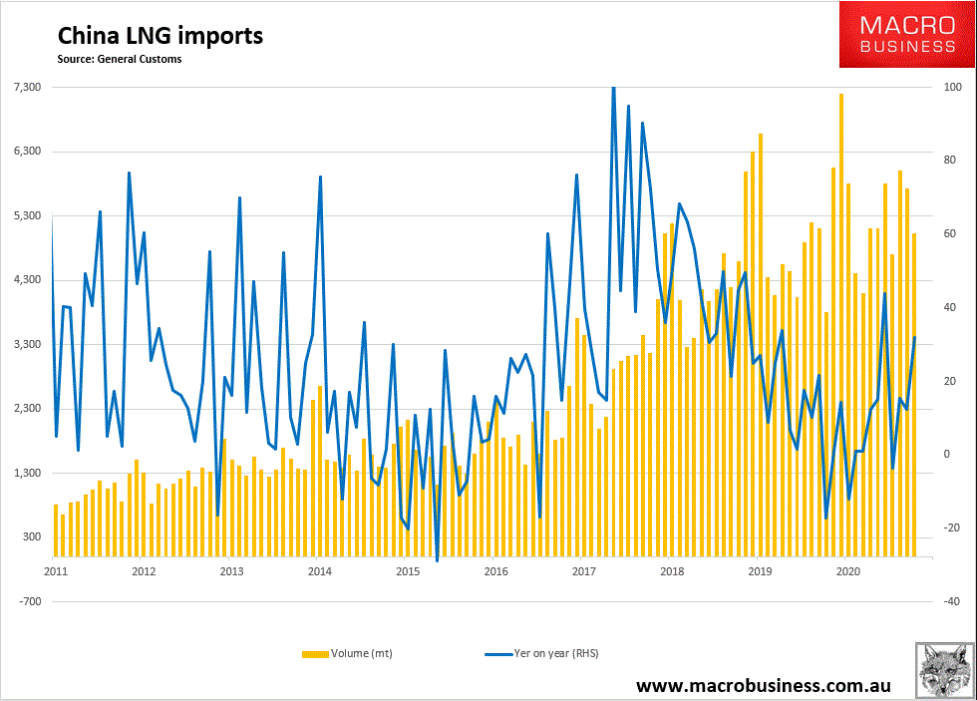 Along with a rising Brent oil gas benchmark, Australian LNG export revenues have taken off. The net effect of Xi Jinping's trade war on himself has Australia laughing all the way to the bank as the small losers are swamped by the big winners: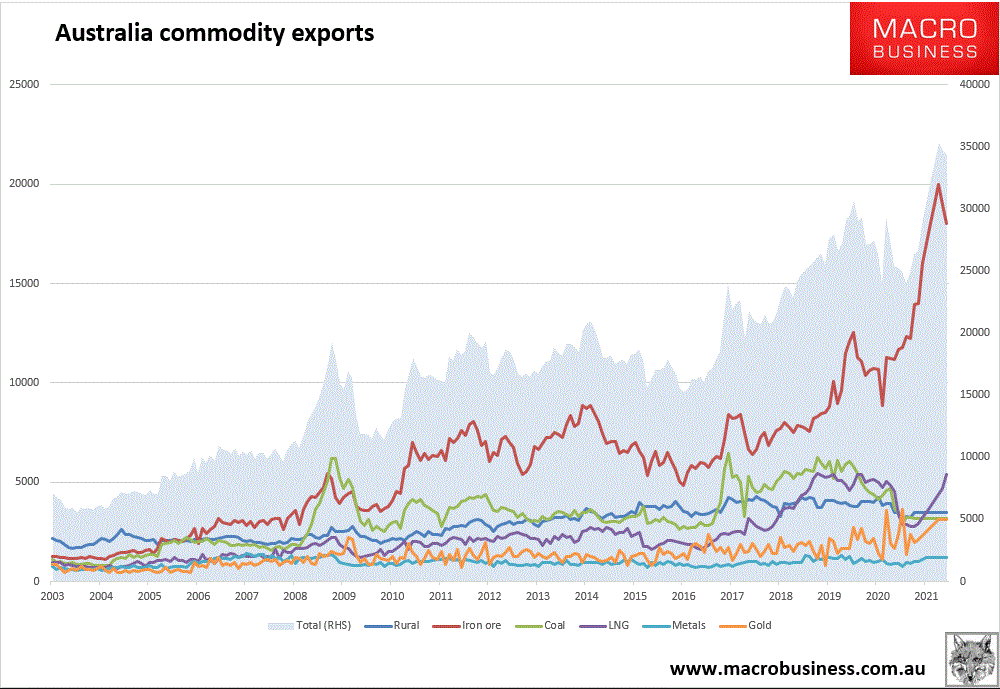 The income boom will come off in H2, 2021 as iron ore supply normalises but that was coming anyway and so long as the trade war persists it will pull back to much higher levels than otherwise.
Australia is just loving China's trade war on itself.
This article is reproduced at www.macrobusiness.com.au