Korea Midland Power (KOMIPO)'s Seoul Power Headquarters, the world's first large-capacity underground power plant, was chosen for the "Construction Project of the Year" of the 2020 Global Energy Awards on Dec. 11, 2020.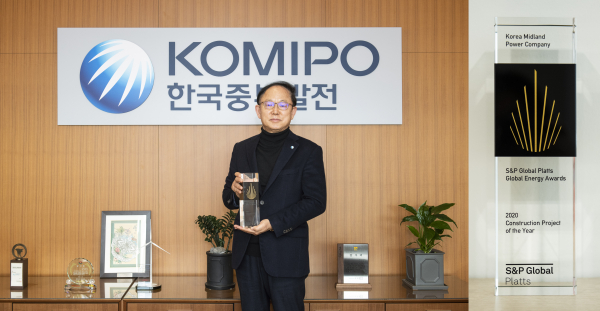 The accolade is a testimony to KOMIPO's excellence in power generation facilities and operation, the state-run power generation company said.
The Global Energy Awards is the world's most prestigious energy award program organized by S&P Global Platts.
KOMIPO said it was selected in the Construction Project of the Year category by beating powerful finalists such as the NASA of the United States and CS Energy of Australia.
KOMIPO built the world's first 800MW underground power plant to create a park for residents on the ground. It turned the site of the demolished Seoul Thermal Power Plants No. 4 and 5 into a creative space for performers and artists. Construction work stated in June 2013. The company overcame numerous difficulties in undertaking large civil engineering work in the heart of Seoul and transporting super-large power generation facilities by water. The power plant was completed in November 2019. To ensure safe operations of the power plant, the company installed fire, gas, and ventilation-related facilities with safety levels two to three times higher than the standards.
Currently, the Seoul Power Headquarters produces electricity and heating energy underground. The park has been completed and the demolished power generation facilities will be reborn as a new cultural and artistic space like the Pompidou Center in France.
This article is reproduced at www.businesskorea.co.kr