Germany is showing continued strong support for the International Atomic Energy Agency's mission to foster global peace and development, even as the country phases out its own use of nuclear power, IAEA Director General Rafael Mariano Grossi said yesterday during a two-day visit to Germany. Decommissioning and waste management will be important areas for future cooperation between Germany and the IAEA, he said.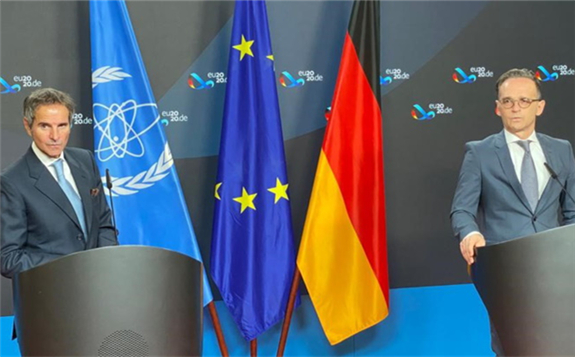 "Germany is - and will remain also in the future - a very important and highly valued IAEA Member State," Grossi said. "My first visit to Berlin since I took office last December aims to further expand and deepen our already close cooperation."
On the first day of his visit, Grossi met with German Foreign Minister Heiko Maas and other senior government officials in Berlin.
At a press conference after their meeting, Maas praised the IAEA's work, thanking Grossi for maintaining the agency's non-proliferation inspection activities during the pandemic, despite the travel disruptions it had caused. He said this had strengthened trust in the IAEA and gave hope for multilateralism in other fields.
"We highly appreciate the work done by the IAEA. We see that we need your work so much these days," Maas said.
Germany was among a group of countries that quickly stepped in with new financial commitments to ensure that the IAEA's safeguards work was not interrupted during the COVID-19 outbreak. With this funding, the IAEA could charter its own plane for the first time to get its safeguards inspectors into the field, including to Iran.
"Foreign Minister Maas and other high-ranking German officials made clear their strong appreciation of our safeguards work as well as our efforts to help countries around the world address some of the most urgent challenges of today," Mr Grossi said. "It is my impression that Germany is as committed as ever to supporting the agency, even though the country has decided to opt out of nuclear power as a source of energy."
The IAEA said Germany had also been taking a leading role - diplomatically and financially - in the modernisation in recent years of the eight nuclear application laboratories in Seibersdorf outside Vienna, enabling the agency to step up its technical and scientific assistance to countries in improving human health, bolstering food security, mitigating climate change, suppressing insect pests and much else.
Grossi also met with Parliamentary State Secretary Rita Schwarzelühr-Sutter of the Federal Ministry for the Environment, Nature Conservation and Nuclear Safety. Among other issues, they discussed IAEA plans to use nuclear techniques to step up action against the worldwide problem of plastic waste pollution.
"With its impressive track record on environmental protection, I'm looking forward to working closely with Germany also in this area," Grossi said.
They also stressed the importance of maintaining high standards of nuclear safety and agreed to work together and share experience on nuclear power plant decommissioning and waste management, areas where Germany is acquiring expertise that other countries can benefit from.
Grossi said the IAEA was ready to provide its assistance to Germany with decommissioning and waste management, as well as in helping to disseminate internationally the knowledge gained by the country as it winds down its nuclear power programme. Germany is already participating in IAEA programmes on decommissioning, used fuel and radioactive waste management and environmental remediation.
In 2019, an IAEA team of experts carried out an Integrated Review Service for Radioactive Waste and Spent Fuel Management, Decommissioning and Remediation in Germany. The team concluded the country was continuing to manage its radioactive waste and used fuel in a safe and responsible manner, while also noting opportunities to improve monitoring of the the national programme for radioactive waste and used fuel management.
German utilities were forced to shut down their nuclear power plants by the Energiewende, or energy transition, that the government of Chancellor Angela Merkel introduced in response to the Fukushima Daiichi nuclear power plant accident in Japan of March 2011. At that time, Germany was obtaining around a quarter of its electricity from 17 nuclear reactors. The six remaining operational reactors are scheduled to close by 2022.