German transmission system operator 50Hertz and Danish system operator Energinet have inaugurated the world's first hybrid offshore interconnector to link German and Danish offshore wind farms.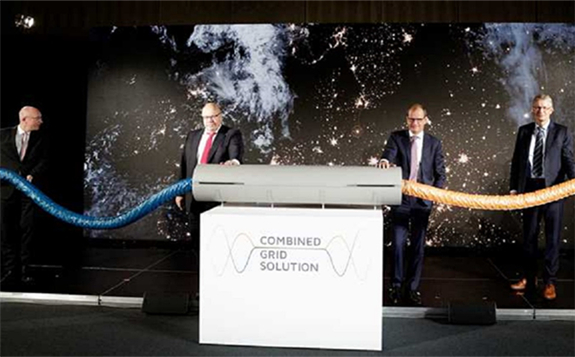 Named the Combined Grid Solution (CGS), the new system has been designed to connect two offshore substations in the Baltic Sea, as well as the existing onshore connections of the offshore wind farms.
The new CGS system consists of both hardware and software components. It transmits offshore wind power to Denmark or Germany and can also be used for cross-border energy trading.
50Hertz CEO Stefan Kapferer said: "With this project, 50Hertz and Energinet are pioneering the efficient integration of offshore wind farms into the cross-border European electricity market.
"It offers us several effective options to balance the frequency and voltage of our transmission grids at all times, to deal with the integration of renewable energy sources with more flexibility and to increase the stability of the overall system.
"Therefore the CGS is an essential puzzle piece of our strategy to cover 100% of the electricity demand in our grid area, over the course of a year, with renewable energy by 2032."
50Hertz noted that the grid connections of wind farms Baltic 1 and Baltic 2 operated by the company in Germany, and the grid connection of 600MW Kriegers Flak wind farm in Denmark are also used as an interconnector.
Two submarine cables with a length of 25km and capacity of 200MW each, have been laid between the offshore substations of Baltic 2 and Kriegers Flak to integrate both grid connection systems together.
For this interconnector, a double converter was required at Bentwisch substation near Rostock as the transmission grids of eastern Denmark and Germany were not synchronous.
The double convertor converted the incoming alternating current (AC) into direct current (DC) and immediately into AC to ensure a smooth flow of electricity from Denmark to Germany and vice versa.
For Denmark, the project is of key importance as the country is attempting to pursue a climate-neutral strategy.
Once integrated, Kriegers Flak wind farm will begin operations next year and supply clean energy to 600,000 households in the Zealand region.
In November 2018, 50Hertz awarded a €300m contract to a consortium, including NKT and Boskalis Subsea Cables & Flexibles, for the Ostwind 2 offshore wind farm grid connection.