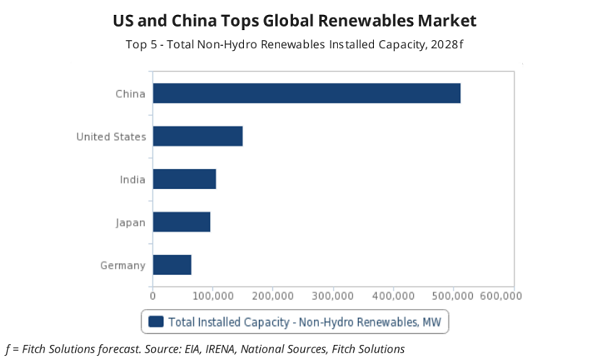 This will drive up costs amidst declining demand for equipment from the US and India.
Whilst Asia's power and renewables market is largely insulated from the US-China tariff war, Chinese solar manufacturers are expected to be the biggest losers at present, as they come under increasing pressure from declining domestic demand and tariffs from both US and India, which are the two largest solar markets after China, Fitch Solutions said.
According to a report, a source of potential risk includes the tariffs on imported solar cells and panels from China to US, which will cause changes in the cost of solar projects and threaten the economics of US solar projects in the pipeline, although this was not flagged in the new wave of tariffs. Chinese solar manufacturing share in the global market has grown to approximately 70%.
However, the higher import costs of solar equipment are being partially offset by two factors: the supply of Chinese solar panels has increased as China's growth in the sector slowed down, and developers are rushing to take advantage of a federal investment tax credit before it expires from 2022.
"This means that many projects are still progressing. Indeed, installed capacity in the solar sector reached a historic high in Q1 2019, at 2.7GW, despite the tariffs which have been in place since 2018," Fitch Solutions said.
Moreover, the tariff on imported solar panels will also have been reduced by 2022 (tariffs are set to be reduced progressively by 5% a year over four years since it took effect). "Furthermore, an exemption for bifacial solar modules was announced last month, which will support the technology going forward," Fitch Solution said.
The firm said restricted access to the US will lead to access to cheaper solar panels in other smaller markets – particularly in Asia. "As Chinese solar equipment manufacturers face an oversupply due to slowing domestic solar growth and limited access to the US market, smaller markets will be able to tap into cheaper solar panels internationally, which in turn will aid solar capacity growth in a number of developed and emerging markets," it added.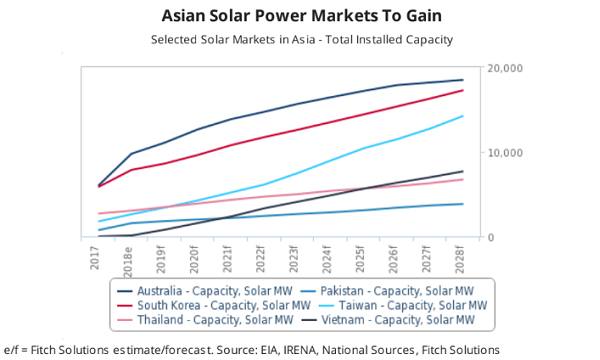 Some Chinese manufacturers have also set up manufacturing capacity in some of these markets such as Thailand and Vietnam to circumvent the duties, and a local supply chain further lowers the prices for domestic use in these markets. "We believe that the falling technology costs will continue to support solar growth amidst the increasingly competitive global solar power market as well as pressures from the environmental impact of coal," Fitch Solutions said.
Despite the trade war, Chinese global solar exports have still grown by a significant margin in the first half of 2019 from the previous year, with a surge in exports to the Netherlands, Spain and Germany amongst others, whilst those to the US have fallen. "We believe that demand from international markets outside of the US will continue to support the industry as the tariffs from the US fall gradually," Fitch Solutions concluded.