Sungrow, a global leading inverter solution supplier for renewables, debuted its latest 1500V LFP Lithium-ion energy storage system (ESS) solutions for a full range of applications at the SNEC 2020.
The Company unveiled the new 1500V LFP ESS solutions to meet growing demands across the globe. The ESS solutions allow the PCS capacity varying from 1 MW to 6.9 MW, and the LFP (Lithium Iron Phosphate) battery rated at 1500V which can be assembled to an integrated volume of up to 4.5 MWh, suitable for a variety of commercial and utility-scale installations.
The firm detailed that when paired with renewable energy, the all-in-one system can meet requirements like frequency regulation, peak shaving, demand charge management, ancillary services. Flexible with DC-coupled or AC-coupled design, the solutions enable minimised cost, safe and reliable operation and competitive levels of profitability.
Optimised for utility-scale solar plants, the firm also showcased a 1500V 3.125 MW outdoor central inverter solution. Featuring three-level topology technology, the maximum inverter efficiency reaching 99 percent.
It is designed with DC/AC ratio up to 1.8, enabling cost-saving on Balance of System (BoS) at large. The solution is compatible with the DC-coupling energy storage system, enabling 60% of the rated power charge from the grid. The 1500V string inverter SG250HX, also applied to the utility-scale sector, is now one of the best-selling PV inverter solutions and 3 GW is expected to be deployed by the end of 2020, the firm stated.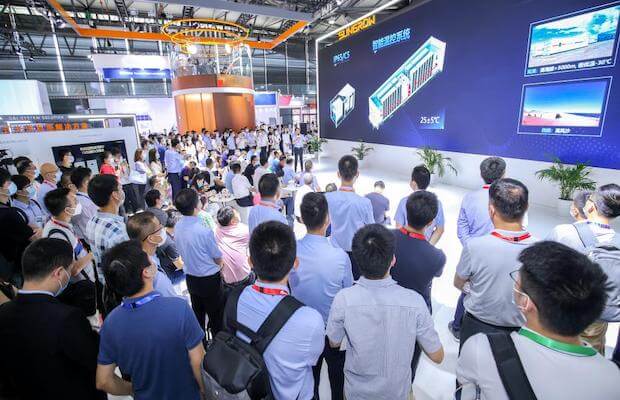 "The integration of PV and energy storage relies on deep analysis and integration of the whole system instead of a mechanical combination of two systems. Sungrow is one of the few entities that can offer both PV and energy storage solutions with a 23-year proven track record, that makes us stand out from the competitive market," said Jack Gu, Sungrow Senior Vice President.
Reportedly, the Company maintains robust performance despite the impact of COVID-19. Its latest 1H financial forecast demonstrates a 25-35 percent year-on-year growth rate in net profit while the cumulative installations reaching 120 GW as of June 2020.