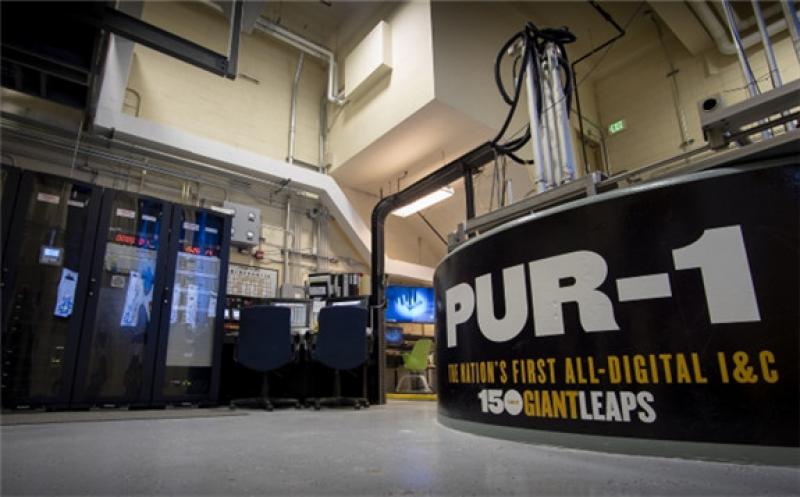 The US Nuclear Regulatory Commission (NRC) has licensed the first entirely digital nuclear reactor instrumentation and control (I&C) system in the USA, at a university-based research reactor originally built in 1962. The NRC licence also for the first time covers parts certified under standards laid down by a non-US regulatory body.
Purdue University Reactor Number One (PUR-1) and its associated research facility have undergone a digital conversion which began in 2012, when the US Department of Energy awarded the university a grant under its Nuclear Energy University Program to replace reactor equipment with a state-of-the-art instrumentation and control system. The fully digital system was developed by the university in collaboration with Mirion Technologies and the Curtiss-Wright Corp.
The work paves the way for widespread implementation of the technology in both research and industry reactors, the university said.
"The new digital I&C at the Purdue reactor lay the foundation for the facility to perform high impact research," Clive Townsend, the supervisor for the reactor, said. "As a cyberphysical research centre, we are uniquely positioned to investigate the interface between 'what we code' and 'what we touch'."
The digital system will enable research data to be measured instantly, and will allow more data to be processed and analysed, potentially providing opportunities for new capabilities such as predictive analytics, machine learning and artificial intelligence. Digital technology allows for better preventive maintenance, leading to a longer and safer facility operating lifetime, and digital components are also less expensive and more commercially available than analogue parts, the university said.
The digital reactor will offer benefits to both industry and academic researchers, providing a test bed for evaluating reactor simulations. The upgraded facilities include a 150 square foot (14 square metre) video wall for enhanced data display, and the facility will also be able to send live data to remote locations for educational and research purposes.
Seungjin Kim, head of Purdue's School of Nuclear Engineering, said that prior to the update the reactor's use had shifted from fundamental reactor physics research to serving primarily as an educational support facility. "Now, we can return to that impactful research while also significantly expanding the reactor's teaching capabilities," he said.
US nuclear plant operators may already consider retrofitting digital I&C systems that have been approved by the NRC, and all new nuclear power plants in the USA are being designed with integrated digital I&C systems, according to NRC information. Duke Energy's Oconee plant in 2011-2013 replaced its analogue reactor protection system and engineered safeguards protection system with digital versions, the first US plant to do so. Several fuel cycle facilities also make use of control systems based on digital design technology both in their normal process control systems and safety control systems.
Regulatory "first"
The use of digital I&C in nuclear power plants is one of the areas highlighted in an NRC initiative launched in 2018 to transform its regulatory framework to better align with the needs of today's nuclear industry.
NRC's licensing of PUR-1 is also unprecedented for its inclusion of parts that are certified under German, rather than US, standards, the university said. The NRC accepted parts certified by the German Nuclear Safety Standards Commission (Kerntechnischer Ausschuss - KTA) through its initiative for a risk-informed and performance-based regulatory process.
"The fact that the NRC is accepting a digital console for a small research reactor, with parts certified under the KTA standards, signals the regulatory body moving toward approval in a large industry reactor," Townsend said.
The NRC currently regulates 31 operating research and test reactors - sometimes called non-power reactors - most of which are located at universities or colleges. It does not regulate the Department of Energy's research and test reactors.
PUR-1, at West Lafayette, is the only nuclear reactor to operate in the state of Indiana. The materials test reactor is licensed for continous operations of 10 kWt and uses uranium/aluminium fuel.
Purdue University intends to hold a ribbon-cutting ceremony for the newly licensed reactor in September.