Finance Minister Nirmala Sitharaman announced an additional income tax exemption of 1.5 lakh for purchasers of electric vehicles in Budget 2019-2020. She also said that the GST rate on electric vehicles would be lowered to 5%. Can India make a smooth shift to electric vehicles? G. Ananthakrishnan explores the options with Ashok Jhunjhunwala, professor at the Department of Electrical Engineering, IIT Madras, and Tarun Mehta, co-founder and CEO, Ather Energy.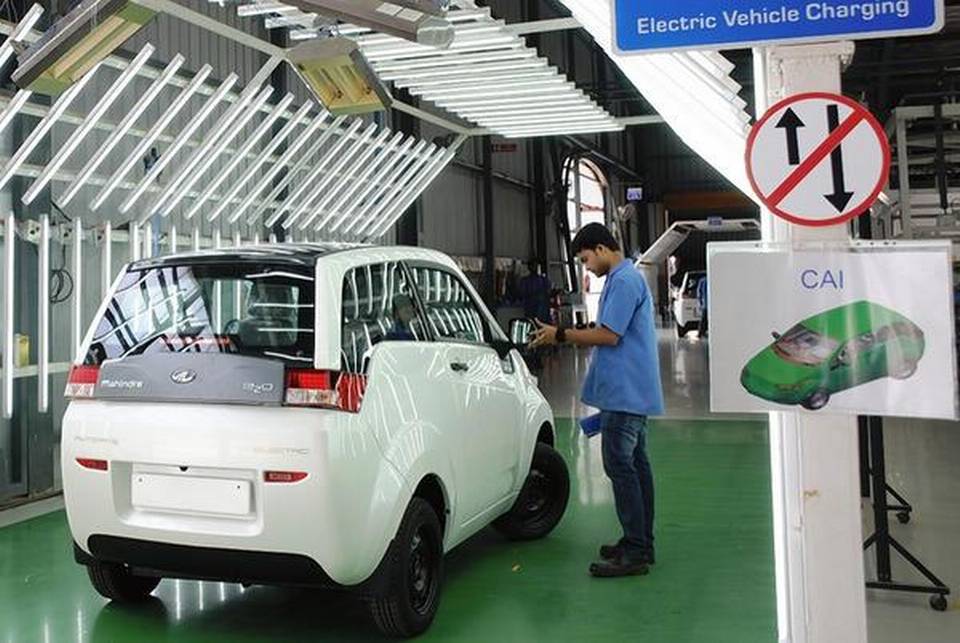 Edited excerpts from a conversation:
What do you think will be the impact of the Budget announcement of a tax break for electric vehicle purchases?
Ashok Jhunjhunwala: Electric vehicles are very important for the country. I think this is the first definite statement made by the Government of India in that direction. Some companies have been resisting the change, but it will happen however much you resist it. It is a matter of time. But by slowing it [the transition] down, India will get hurt, and will be dependent on outsiders for the technology. This Budget clearly indicates that the government will go all out for it, and it is best that companies prepare and take advantage of it. It is giving specific breaks in the beginning, but finally India has to win with electric vehicles even without any subsidy or concession. It is time for the auto industry, researchers and everybody working towards the development of next generation products to make up their mind that it is going to be electric vehicles.
Tarun Mehta: The tax concession is positive as a Budget announcement, but in terms of numbers GST is a bigger benefit. From a market shaping perspective, incentivising EMI purchase of electric vehicles has a big impact. There are two things. Today, the market does not have many financing options for electric vehicles. By incentivising EMI purchases, the government has ensured that [for] every customer who wants to go in for them, there will be a lot of interest from banks and NBFCs to create relevant products. The second advantage is that electric vehicles need more financing options. Because you want to take the upfront sticker shock out of the battery, motor, etc. Today, a lot of customers may not consider financing options and hence are dissuaded by the upfront price. Incentivising makes the customers do the mathematics with financing in mind, which makes them realise that for electric vehicles the overall total cost of ownership is so much better.
Where does India stand on the global scene on electric two-wheelers?
AJ: We have just begun. Frankly, we don't stand very far up. But there is nothing in this technology that we cannot do ourselves. We have started making batteries. I have seen in many places that motor controllers are in the final stages of design and development. The rest, we can do: the body, tyres. Of course, some improvements can be there. In the next one or two years, a huge push [will be witnessed] and that's where India will be not just on par [with other countries] but will start leading in the technology.
The key concern for me will be whether we import everything from China or make it ourselves. If our industry is not to be affected, and jobs are not to be lost, there is huge employment in the auto sector. If the traditional internal combustion engine (ICE)-based vehicle is going away, we will have a huge crisis with many losing jobs. The only way they will continue to have jobs, or the number of jobs can be increased, is to start making every sub-system of electric vehicles.
We have to beat China on performance and price. That needs to be done in the next couple of years. That is what the Centre for Battery Engineering and Electric Vehicles at IIT-Madras has been working on for four years. It has actually done so much to convince India that yes, we can do it ourselves. And there are a number of incubated companies working closely, getting these things done. Two-wheelers and three-wheelers will start scaling up in a year. This year you will see plenty of it, and next year it will really scale up. Two years down the line, it will start edging out ICE vehicles.
There are only some small players now. A large number of small players and some big players must get into it in a full-fledged way. Customers don't want only a single type of vehicle, [they have to be] in different sizes, with different power, battery sizes. These are all going to come in the next two years.
TM: China is a very interesting place. Just in sheer volume terms, India is far behind. However, India has a far stronger two-wheeler industry, and a very capable assembly and component manufacturing ecosystem. Indian component manufacturing for two-wheelers is even more price competitive than China, which is a very rare thing to achieve. In China, there are no credible players. There is a very large market but no credible players and very little real R&D for electric two-wheelers. There are a lot of commodity components being manufactured there. In India, local market and large players can create a strong R&D base, leverage our local demand to create economies of scale, a strong supplier base, and take a leadership role in two-wheeler electrics globally.
Is there a time frame by which we can do that?
TM: Most larger two-wheeler original equipment manufacturer (OEM) players today have 10,000 crore to 20,000 crore of deployable capital, and the electrification process will take only a fraction of it. Indian industry can invest, and our suppliers can make the transition. We will create more jobs, high quality jobs. From assembling mechanical components we can move to manufacturing PCBs [printed circuit boards], assembling electronic boards, and bring battery manufacturing to India.
Do we have sufficient battery capacity to meet rising demand?
AJ: Four or five years back, we were nowhere in battery manufacturing. I had gone to labs in China, the U.S. and Germany. The Germans were by far the best. But in the last four to five years, we have started making battery packs as good as those made in Germany, probably better. This has happened through start-ups. We have a start-up at IIT-Madras, Grinntech, and we have a number of manufacturers who have jumped into it. As electric vehicles grow, batteries will be made in India.
There are three parts to battery production. One is battery pack development, which we will do immediately. Number two is cell manufacturing. On this a number of companies are setting up cell manufacturing units in India as a joint venture. It will take two or three years to start cell manufacturing. The third is raw material. Lithium, cobalt, manganese, nickel — for that we need to recycle old batteries. Even cell phone batteries, which is lithium ion. We throw away 300 million cell phone batteries. If we recycle and extract, we can expect [to recover] 90% of lithium, cobalt, manganese, nickel and graphite. And there are small companies that have the technology.
Battery technology will continue to evolve. There is no question of limits. The cost falls as better technology starts coming in, giving us higher energy density. More energy per kilogramme of material. There will be continuous work on that, at least over the next 10 years.
TM: Capacities will have to be installed now. All of us building battery packs are now in the process of installing more capacity quickly. We don't have cell supply in India today, but cells are abundantly available in the global supply chain. Which is what we will have to tap into to build battery packs. As our volume rises, as we start topping a few gigawatts in capacity, cell manufacturing will come to India.
What will drive adoption and use of electric vehicles from a policy perspective?
AJ: Basically governments have to think of phasing out [ICE vehicles]. For example, the amount of pollution that we have, we cannot continue to live in that kind of pollution. We are importing all the oil; we cannot continue to import all that oil. City after city may say, no more ICE two-wheelers or three-wheelers and four-wheelers from this date onwards. This is what China is doing. And we have to move in that direction. Enough time has to be given for change.
TM: The Budget incentivises the demand side. We need a few policies around the supply side and on infrastructure. We need to incentivise battery pack and cell manufacturing. Rebates around setting up battery plant capacity, manufacturing of battery packs in India in the next 18-24 months will help. On the infrastructure side, the government can come up with requirements to have charging points in every parking location. We don't need charging hardware that OEMs and other companies can bring, we only need access to an electrical socket.
There are in-between segments like electrically powered bicycles. Will they become more popular?
TM: Micro-mobility is a new, emerging segment. I am not sure what form factor will be suitable there — electric cycles or electric stick scooters or something which is a smaller version of the bicycle. But I am pretty confident that real micro-mobility within one km sort of travel will find interesting solutions beyond scooters and bikes in the next five years.
AJ: Let the manufacturer find customers and if they like it, let them go for it. We should do minimum regulation.
What about the EU model of a law for automobile companies to cap total emissions across products to spur electric vehicle growth?
AJ: All that should be done. Step by step. Don't give too many shocks. Already the auto industry is nervous. Convey to them that this is going to happen, give them time and make it happen. For three-wheelers and two-wheelers, they have suggested [a shift by] 2023 and 2025 [respectively] for new vehicles to be 100% electric. That is a very good window. In due course we can define this for cars.
TM: It makes a lot of sense for a place like India. However, places like Europe and the U.S. have been implementing policies like that for almost a decade, but we would not have the luxury of 20 years to implement them.
Should taxation of conventional fuels have a role to play?
AJ: Finally, at some point of time, conventional fuel vehicles have to move out. I am open to time frames, we should have a discussion with the auto industry and figure out what is doable. In the meantime, support electric vehicles as much as possible, so that they can become a common thing.
TM: You can use capital created by the United Nations and still tax polluting vehicles to generate a balance to fund cleaner transport. We don't have the time to wait to do only a handful of things. We should do everything we can. Funding factories, funding lithium cells, electric infrastructure, vehicles and subsidising user behaviour.