The Hyundai Kona Electric has achieved new heights, breaking the Guinness world record for the highest altitude reached by an electric vehicle at the Tibetan Sawula Pass.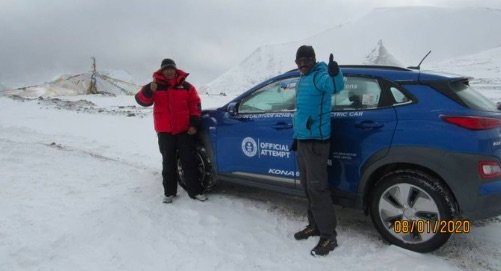 The long-range Kona Electric, made by Hyundai Motor India, reached the dizzying altitude of 5,731 metres, breaking the previous record of 5,715.28 metres made by a privately-owned and Chinese-made Nio ES8 on September 24, 2018 at the Purog Kangri glacier in Tibet.
Taking on the savage and extreme conditions of the Sawula Pass, which include freezing temperatures, relentless snowfall and icy tarmacs, the Kona EV was charged during the journey at overnight locations using the vehicle's standard portable charging cable.
In a statement regarding the record-breaking achievement, managing director and CEO or Hyundai Motor India S S Kim said it was a remarkable feat.
"Under the Emission Impossible Mission, Kona Electric has proved its mettle in the world's toughest terrains without compromising its performance," said Kim.
Adjudicator for the Guinness World Records Rishi Nath said in a statement: "A new precedent has been set for the record as – Highest Altitude reached in an electric car. I would like to congratulate Hyundai Motor India for having achieved this and setting new benchmark in the annals of history."
While it has been noted by the Indian Economic Times that take-up of electric vehicles in India has to date been slow due to high upfront and lifecycle costs, India has the potential to become a "global hotspot" for electric vehicles according to an October 2019 report by the World Economic Forum and the Ola Mobility Institute.
Kitted with a 64kWh battery, the Indian-made Kona Electric is the first all-electric SUV in India to offer up to 452km driving range, and comes with both a portable charger and an 7.2kWh AC wall box charger for installation at home.
The Hyundai Kona Electric has also been the recipient of several awards, including the top automotive product at Australia's Good Design Awards, best "Next Green Car" in the UK, "Best Car of the Year" in Spain and best eco-friendly subcompact SUV in the "Best Engine" awards in the US.