Zhefu Holding Group of China and the Myanmar-listed firm Supreme Trading Co. have made plans to invest up to $2.57 billion to build an LNG import terminal and adjacent gas-fired power station at Mee Laung Gyaing. The integrated project will cover the energy needs for regional industrial zones, hotels and the city of Yangon.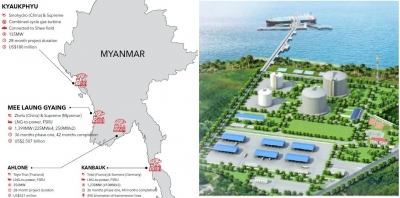 The Mee Laung Gyaing project is one of three LNG import projects being evaluated by the Government of Myanmar. It has pledged to turn the country into a gas importer and regional LNG hub. The other two projects would be located at Kanbauk in southwest Myanmar and at Ahlone near Yangon.
Though the final shareholding structure for the LNG-to-Power project has not yet been fixed, it is clear that Zhefu Holding will be the majority shareholder and the Myanmar company would have a 20 percent stake.
In terms of project timeline, Supreme Trading disclosed it would to take about four years to complete. Developers aim to start-up a 500 MW gas-fired power unit by the end of 2022, and add another 900MW of gas generating capacity a year or two later.
"Feasibility studies are currently taking place at Mee Laung Gyaing, including the necessary environment and social impact assessments, while soil and water conditions are being tested near the area where the jetty will be constructed," Supreme Trading said in a statement.
A power purchasing agreement for Stage-1 is nearly completed, according to Supreme Trading, who expects to close the deal in the first quarter of 2020.