The Queensland government's "surprise" decision to increase liquefied natural gas royalties in this year's budget has failed to slow the state's climbing debt level, which was set to be $1 billion higher in three years than what was expected six months ago.
Total debt was forecast to hit a mighty $91.8 billion over the forward estimates, compared with the $90.72 billion predicted in the June budget.
Treasurer Jackie Trad was asked at the Mid-Year Fiscal and Economic Review on Thursday if she was comfortable with debt blowing out, to which she replied: "I am very comfortable that we have made a sound decision around building critical infrastructure".
"Yes, the debt level has gone up because we are building more," she said.
With the election to be held in October, Ms Trad revealed the expected surplus for this year dropped by $38 million.
It was expected the government would try to stash extra surplus away for its election war chest.
A sharp slump in coal prices has meant royalties were expected to tip in $600 million less than the $4.34 billion predicted in the budget.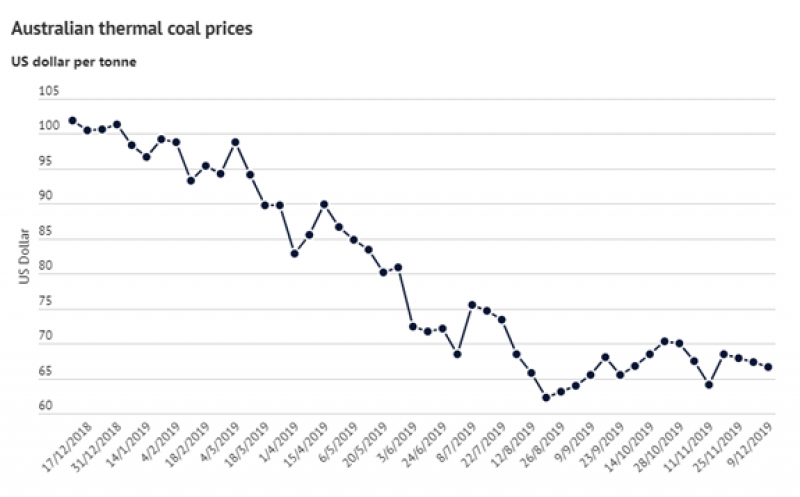 The government's royalty projections were based on the assumption thermal coal would fetch $US93 a tonne and hard coking $US179 a tonne.
On Monday thermal coal was selling for about $US27 less than expected and hard coking has dropped by about $US34.
Ms Trad did not rule out an increase on coal royalties in next year's budget after offering a one-year freeze this year "in exchange" for millions of dollars for a regional infrastructure fund.
Mining giants have yet to deposit a single dollar into the fund more than six months after it was set up but Ms Trad said some agreements had been made "in principle".
After pledging not to increase the rate of coal royalties in this year's budget, the government lifted the royalty on the petroleum industry by 2.5 per cent instead.
Gas will pump $28 million less than expected into Queensland's coffers in 2019-20.
An increased tax on foreign or long-term absent landholders, announced in the budget, has also failed to bring in $100 million revenue promised.
Ms Trad said she had made "concessions" on the foreign surcharge after consulting with industry, with details of those talks to be announced in the new year.
Meanwhile, the new office set up to tackle the rising cost of the public service was tasked with finding $200 million in savings this financial year.
Six months into the financial year it has managed to claw back a whopping $715 million, without firing any public servants. Ms Trad said the saving came from trimming procurement costs and "improving cash management".
Despite more than doubling expected savings in the first year, the razor gang will pull in $400 million less than anticipated, over forward estimates.
In a bid to retire debt, Ms Trad announced a Queensland Future Fund which would leverage money from public servants' superannuation.
Money from the fund, which will operate like a mortgage offset account, can be withdrawn but will reduce the amount of interest the state is forced to pay on its debt.
The fund "will be seeded with an initial $5 billion investment, $2 billion redirected from the government's existing debt retirement plan and a further $3 billion invested from the surplus in the Defined Benefit Fund", the review read.
"What we are doing is taking this money, putting it in an offset account and the ratings agencies will view that in terms of our net debt position and I anticipate that they will look on it quite favourably," Ms Trad said.
"It is not going to pay down debt in 19-20, we are growing the fund for future generations so that there is a constant stream of income to pay down debt."
Opposition treasury spokesman Tim Mander said the review showed Labor was "reckless and financially incompetent".
"Every economic indicator is now heading in the wrong direction under Labor," he said.
"Economic growth is forecast to decrease, unemployment is forecast to increase and of course the debt will increase by a billion dollars."
Jobs will continue to be the Palaszczuk government's top issue as Queensland inches closer to the 2020 election.
The economic health check predicted a 0.25 per cent stronger jobs growth this financial year than expected, however the jobless rate was also expected to jump by 0.25 per cent.
The state government has a fiscal principle to keep growth in the public service aligned with population growth, which it achieved.
The government has been unable to budget for the potential pay out from the 2011 flood class action, - law firms suggest it could run to a billion dollars.