Germany luxury automotive manufacturer Audi has unveiled its new plug-in hybrid electric vehicle (PHEV) sports utility vehicle (SUV), the Q7 TFSI e quattro, which will come with a three-litre V6 gasoline engine with a powerful electric motor.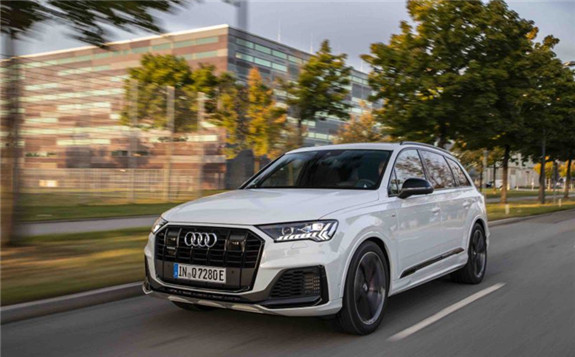 Audi had already introduced the plug-in hybrid versions of its Q5, A7, and A8 – debuting on the European market in the second half of 2019 – and the new Q7 SUV will be available in two power levels.
The top-of-the-line version offers output of 335 kW (456 PS) and 700 Nm of system torque and a combined fuel consumption in litres per 100 kilometres of between 3.0 and 2.8, and combined electric power consumption between 22.9 to 22.2 kWh per 100 kilometres.
The second tier version will deliver 280 kW (381 PS) and 600 Nm with a combined fuel consumption of between 3.0–2.8 l/100 km and combined electric power consumption of between 22.4–21.9 kWh/100 km.
In both variants the Q7 the full electric operation will achieve the same range of up to 43 kilometres and is expected to reach markets by the end of the year.
The Q7 TFSI e quattro will provide drivers with seven ride profiles – "comfort," "efficiency," "auto," "dynamic," "individual," "all-road" (with the optional adaptive air suspension) and "off-road".