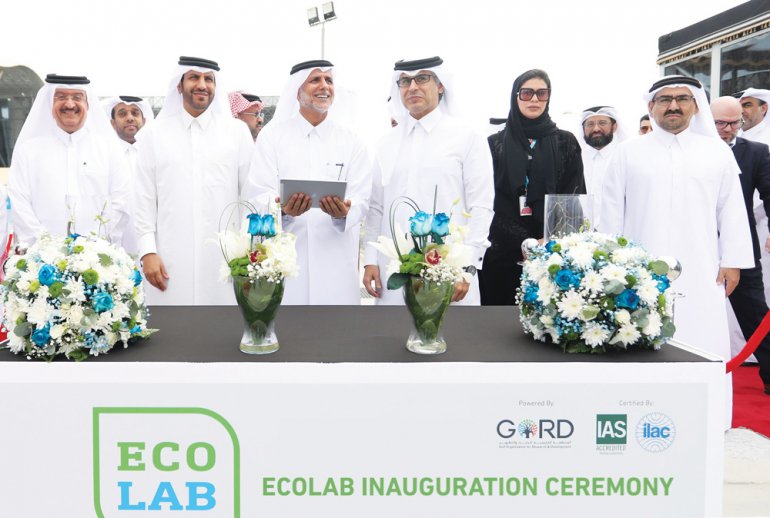 The Gulf Organisation for Research & Development (GORD) has launched EcoLab, Qatar's pioneering facility measuring energy efficiency and safety for air conditioners and home appliances through high quality and reliable testing facility and well-trained technical experts.
Unveiled yesterday, in the presence of representatives from concerned government agencies, EcoLab has emerged as the sole provider of novel energy efficiency testing services within Qatar. The testing of all types of window and split units are done using a state-of-the-art environmental chamber that can simulate the region's tough climate conditions in terms of temperature and humidity.
Speaking at the opening ceremony, Dr. Yousef Alhorr, Founding Chairman of GORD, said: "Representing the government's efforts to conserve power, regulations have been passed in favor of energy-efficient air conditioners, which all suppliers in the market must adhere to. Putting this in context, the idea behind EcoLab is to provide testing services necessary to meet the country's regulatory requirements."
Addressing the audience, Eng. Nawaf Ibrahim Al Hamad Al Mana, Assistant of the Chairman of Qatar General Organization for Standards and Metrology (QS), said: "We strongly believe that this initiative will boost collaboration between various entities within Qatar, starting from setting standards through to conducting necessary tests to verify the compliance of appliances with the specifications required in order to improve the overall quality of products in the local market."
Yosouf Abdulrahman Saleh, Executive Director of Qatar Science & Technology Park, said: "The lab features latest instruments and equipment for measuring energy efficiency of ACs and home appliances."
With the facility now formally inaugurated, EcoLab will offer a wide range of comprehensive testing facilities sprawled across 20,000 square feet at Qatar Science and Technology Park (QSTP).
With ISO 17025 certification, EcoLab will operate in accordance with the highest international standards, making the laboratory the first in Qatar to determine the quality of home appliances based on their performance on energy and safety metrics, in addition to indoor air quality (IAQ) testing, portable appliance testing (PAT) and PV testing.
Executing these latest testing procedures are specialized industry personnel, trained to conduct inhouse as well as mobile on-site tests.
With its current capacity, EcoLab can test all types of commercially available home-use airo conditioners ranging from 9000 BTU to 70000 BTU. Apart from HVAC, other appliances that can be tested at the facility include exhaust fans, hair dryers, hair straightener and steam iron.
The next phase of testing will include refrigerators and freezers, washing machines, water heaters and clothes dryers. Moving forward, the laboratory is planned to add non-electrical consumer goods in the scope of products tested within EcoLab.