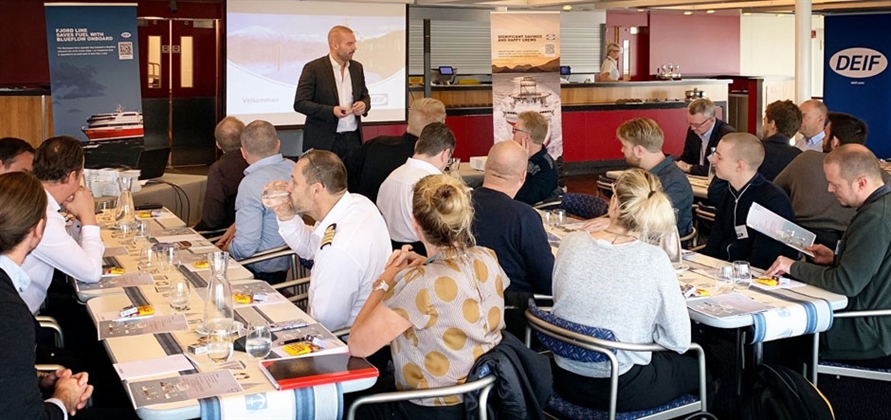 An event organized by Danish power control solutions company DEIF has highlighted the potential savings offered by battery hybrid power propulsion and the Blueflow energy management system.
Twenty Scandinavian shipping and marine industry professionals attended the event onboard ferry Tycho Brahe, which has been converted by ferry operator ForSea to use battery hybrid power propulsion. The vessel can use its diesel engines for movement and charging its batteries but can complete its crossing between Denmark and Sweden using only battery power. The system makes use of controllers produced by DEIF, which allow the crew to switch between the diesel, hybrid and battery operating modes.
"In the first quarter of 2019, we reduced carbon emissions from the ferry by 50%," said Henrik Fald Hansen, senior chief engineer at ForSea. "In addition, we get very efficient operation when running on battery power – around 90% compared to 30-40% for the diesel engines."
The event also showcased the Blueflow energy management system, which allows crews to collect, analyse and present data that affects the ship's performance. By tracking factors such as route, wind speed and depth, the system can optimise operation and simplify mandatory emissions reporting. Norwegian operator Fjord Line currently uses the system on two ferries.
"A couple of months after installation, we beat an 11-year-old fuel consumption record by around 6%," said Kristoffer Morgenstern, technical superintendent at Fjord Line. "In our fuel budget, that adds up to a lot of money."
The event was hosted by DEIF in collaboration with ForSea and business association Danish Maritime.