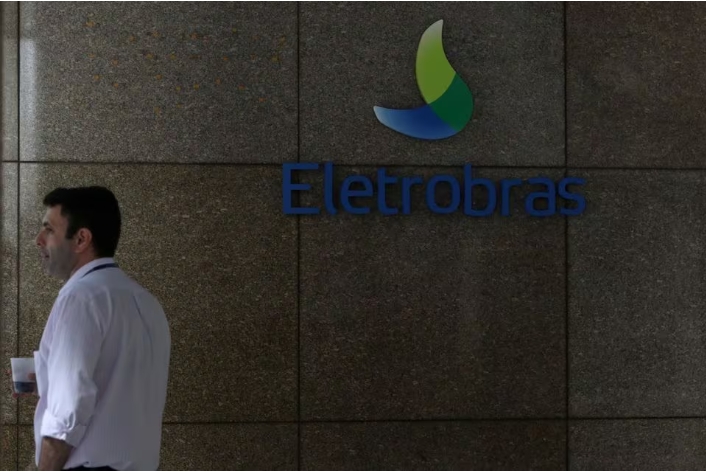 A person stands next to the logo of Brazil's power company Eletrobras in Rio de Janeiro, Brazil January 3, 2019. REUTERS/Pilar Olivares/File Photo Acquire Licensing Rights
Brazilian power company Eletrobras intends to use its portfolio of hydroelectric power plants to provide large customers with a stable renewable energy source to allow them to produce green hydrogen and "e-fuels" at competitive costs, the company's vice president of commercialization said on Tuesday.
Eletrobras will use part of the energy produced by its more than 30 hydroelectric plants throughout the country to serve clients' decarbonization projects, said Italo Freitas in an interview with Reuters, highlighting the power source was more stable than wind or solar.
Latin America's largest electricity company is studying how it will operate in the incipient industry, eyeing potential partnerships to produce green hydrogen and derivates, or just acting as a supplier of the renewable energy needed for the process, the executive said.
"You can have wind power, solar power, but it will inevitably come to hydroelectric power to (provide stability)... And who owns hydroelectric plants in Brazil? Eletrobras," Freitas said.
Last week, Eletrobras received a renewable origin certification for green hydrogen produced in a pilot project at one of its hydro power plants in Minas Gerais state.
The unit, the first of its kind to start operating in Brazil, has produced about three metric tons of the fuel since 2021.
The company has already mapped out other hydroelectric plants that could receive green hydrogen projects, said Freitas.
Eletrobras has been looking more onto decarbonization projects as part of a new energy trading division, which grew after the company was privatized last year and allowed more of the energy produced by Eletrobras to be sold on the free market.
"Eletrobras will have more than 10 GW to sell on the market over the next few years, said Freitas.