The Gayle and Max Dillard Science and Engineering Research Center (SERC) at Abilene Christian University (ACU) in Texas will host the Nuclear Energy eXperimental Testing Laboratory (NEXT Lab) and a first-of-a-kind advanced reactor facility.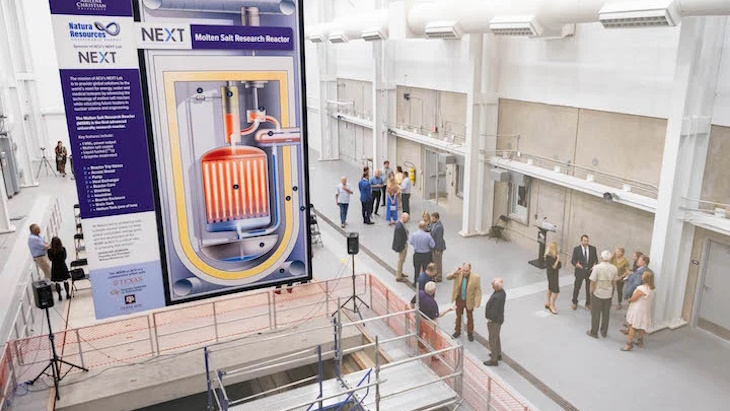 The SERC research bay (Image: ACU)
The new USD23 million, 28,000 square foot (2600 square metre) facility was officially opened on 1 September. It features a 6,000 square foot research bay with a 25-foot deep, 80-foot long shielded trench and a 40-tonne crane, as well as a training control room, conference room, office spaces, machine shop, and specialised laboratories for radiochemistry, molten salt systems and instrumentation. Its construction has been funded by private donors.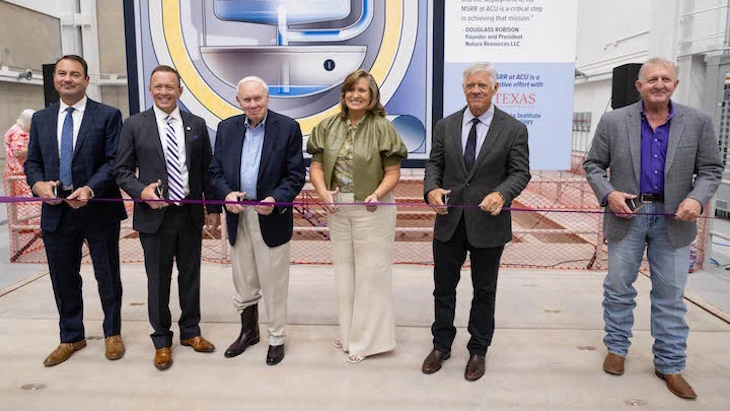 Cutting the ribbon at the new facility are (L-R): Rusty Towell, director of NEXT Lab; ACU President Phil Schubert; Max Dillard; April Anthony, chair of ACU's Board of Trustees; Natura Resources President and founder Doug Robison; and Weldon Hurt, mayor of Abilene (Image: ACU)
The US Nuclear Regulatory Commission is currently reviewing ACU's August 2022 application to construct a 1 MW (thermal), low-power molten salt research reactor, also known as MSRR, at the NEXT Lab facility. The reactor is being designed by Texas-based Natura Resources and the effort is being supported by the Natura Resources Research Alliance of ACU, Georgia Institute of Technology, Texas A&M University, and The University of Texas at Austin, supported by USD30.5 million in sponsored research agreements. A detailed design engineering contract has been awarded to Zachry Nuclear Engineering, part of Zachry Group.
Natura Resources said it is seeking to deploy its first molten salt reactor system in the new facility by 2026, and then to deploy larger systems of the factory-build modular reactors for commercial operations in the early 2030s.