Polish renewable energy trader Respect Energy has signed an agreement with EDF to cooperate on the development of nuclear power projects in Poland based on France's Nuward small modular reactor (SMR) technology.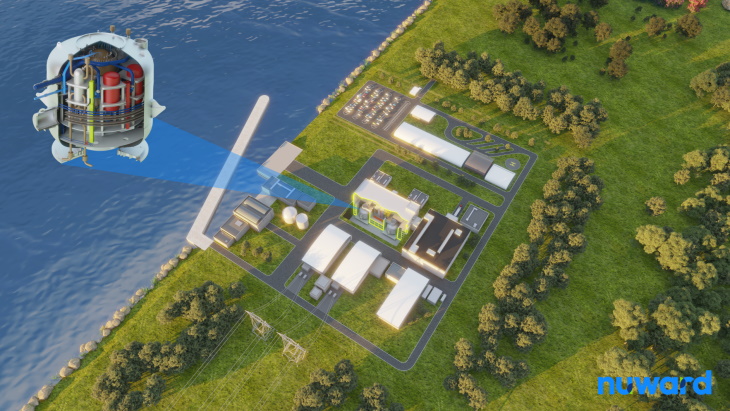 A rendering of a Nuward SMR plant (Image: EDF)
"This agreement marks Respect Energy's and EDF's firm intention to jointly proceed with the development of SMR projects in Poland and confirms the strong interest towards Nuward technology which has been selected by the energy trader to expand its footprint in the nuclear energy field," the companies said in a joint statement. "Respect Energy and EDF will now jointly start the evaluation process of specific new greenfield sites and continue to work on detailing the business and financing plans for this endeavour."
In October 2021, EDF made an offer to the Polish government to build as many as six EPR units. The "non-binding preliminary offer" represented a range of options for Poland. It detailed the engineering, procurement and construction that would be needed for four to six EPR units, at either two or three sites. The EPR units would produce 1650 MWe each if selected - the Polish government announced late last year that it had selected Westinghouse technology for at least the first three of its planned fleet of reactors.
"With its large EPR family power reactors complemented by its Nuward SMR, EDF has a complete European offering to help decarbonise the Polish economy and enhance the country's energy security," Respect Energy and EDF said.
"EDF is delighted to join forces with Respect Energy, a European energy market player based in Poland specialised in green energy projects," said Vakisasai Ramany, EDF Senior Vice-President in charge of New Nuclear Development. "With this cooperation agreement we are moving ahead with the first European SMR project in Poland, contributing to energy sovereignty and Polish transition towards low-carbon sustainable electricity production means. With our reactor portfolio, we are committed to meet the Polish civil nuclear ambitions with both large power and SMR technologies."
Respect Energy Holding Chairman Sebastian Jabłoński said: "Respect Energy is proud to be a part of the SMR development projects in Poland. Teaming up with EDF - world's largest nuclear operator – will allow us to both support the energy transition in Poland as well as contribute to meet demands of safe and carbon-neutral electricity. By signing an exclusive cooperation agreement we start an ambitious project of deploying the first European SMR in our country which will help us to decarbonise the Polish economy and will expand our growing portfolio of zero-emission assets."
The Nuward project was launched in September 2019 by the French Alternative Energies and Atomic Energy Commission (CEA), EDF, Naval Group and TechnicAtome. The Nuward - consisting of a 340 MWe SMR plant with two pressurised water reactors (PWRs) of 170 MWe each - has been jointly developed using France's experience in PWRs. The technology is expected to replace old high CO2-emitting coal, oil and gas plants around the world and support other applications such as hydrogen production, urban and district heating or desalination.
Nuward is currently in the conceptual design phase, which focuses on choosing the major technical features while delivering real competitive advantages. Belgian engineering firm Tractebel was contracted in May last year to conduct studies for the completion of the conceptual design of "the first SMR in the European Union".
The next phase of the project, the basic design completion, is expected to start this year and to be completed by 2025. The design should be in the "advanced concept phase" between 2025 and 2030, during which time Nuward is expected to be certified and the supply chain developed.
Construction of a demonstration Nuward SMR is expected to start in 2030. The construction of that unit is anticipated to take three years.
In June, it was announced the Nuward design will be the case study for a European early joint regulatory review led by the French nuclear safety regulator with the participation of the Czech and Finnish nuclear regulators.
Poland has a thriving small reactor scene, with energy intensive industrial companies working towards upgrading to new small reactors.