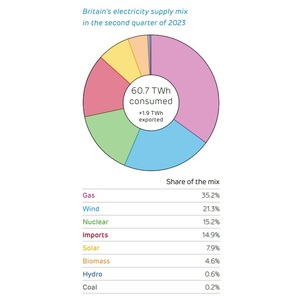 Biomass power generation in Great Britian was down approximately 20 percent during the second quarter of 2023. The decline primarily resulted from unprecedented wood pellet prices, according to the latest Electric Insights Quarterly report released by Drax in partnership with Imperial College London.
According to the report, unusually high pellet prices made many biomass generation units in Great Britian unprofitable to run during the three-month period. Similar declines were reported for nuclear, hydro and gas power generation. Generation from nuclear was down due retirements and outages for refueling, while hydro was impacted by low rainfall. In addition, less gas-fired generation was needed due to surging electrical imports from Europe.
Overall, biomass accounted for 4.6 percent of Great Britian's electricity supply mix during the second quarter. Installed biomass capacity was at 3.8 gigawatts (GW) during the second quarter, unchanged from the previous year. Biomass energy output was at 2.9 terawatt hours (TWh), down 20 percent when compared to the second quarter of 2022. Capacity utilization averaged 35 percent, with a maximum of 84 percent.