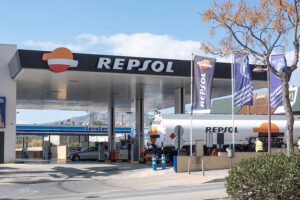 Washington Gov. Inslee signs seven climate-related bills into law May 3.
Gov. Jay Inslee has signed a bill to promote and incentivize sustainable aviation fuel (SAF) production and use in Washington state.
Inslee's signing of the SAF measure was part of a seven-bill package of climate legislation he signed May 3 at an event at Horn Rapids Solar Farm in Richland, Washington, a solar-energy production and storage facility established in 2020 with financial help from the state's Clean Energy Fund.
The Washington State Legislature passed Senate Bill 5447 April 21 and sent it to the governor's desk.
Sen. Andy Billig's SB 5447 requires the state department of ecology to establish a pathway for SAF in its clean-fuels program.
The bill also provides tax incentives to encourage the production and use of these fuels, helping Washington lower its total greenhouse-gas (GHG) emissions.
Among its provisions, SB 5447 provides a $1-per-gallon tax credit for SAF that has at least 50 percent less CO2-equivalent emissions than conventional jet fuel.
In addition, the measure mandates a 2-cent increase in the incentive for every additional 1 percent reduction in CO2-equivelant emissions beyond 50 percent, not to exceed $2 per gallon.
The credit may not be claimed, however, until the department of ecology verifies that there are one or more facilities operating in Washington with cumulative production capacity of at least 20 million gallons per year.
Coprocessed SAF is eligible for the tax credit.
The bill first passed the Senate in early March by a vote of 46-2.
"Our state is already at the forefront of the aviation industry, and we should also be a leader in the development of cleaner fuels for those same airplanes," Billig said after the Senate passed the bill.
In April, the measure passed the House unanimously 96-0.
According to the U.S. DOE, jet fuel contributes 9 percent to 12 percent of all transportation-related GHG emissions in the country.