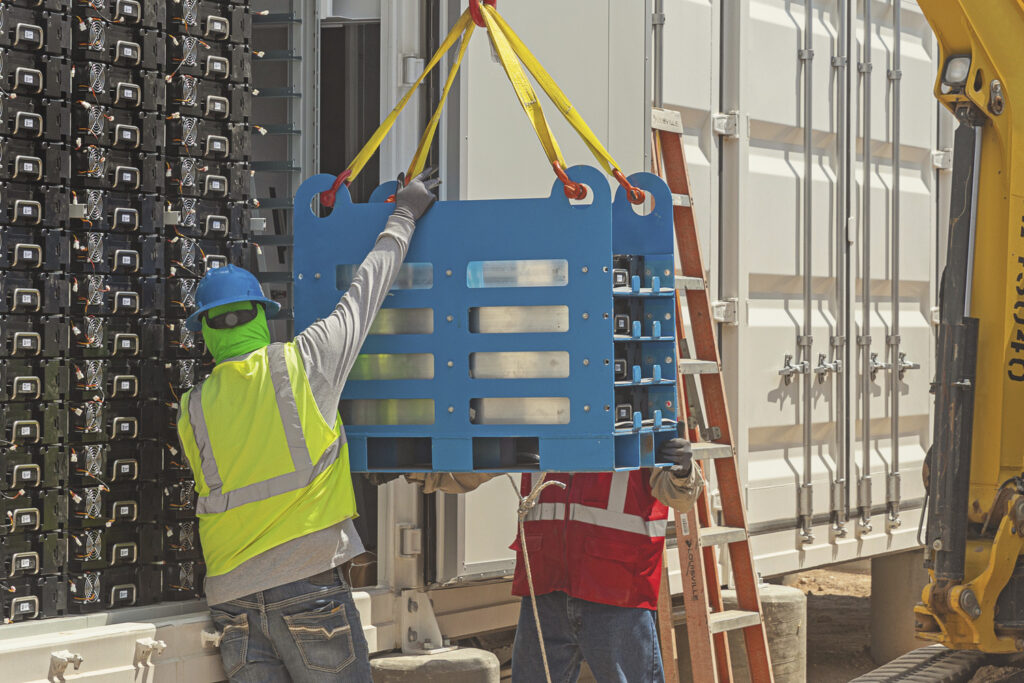 Positive engagement with authorities having jurisdiction (AHJs) is vital for success in the US battery storage industry, with a few essential points to always bear in mind.
That was the takeaway from a couple of sources Energy-Storage.news spoke to at the RE+ solar and storage trade event in Las Vegas this week. AHJs enforce building codes, fire codes, zoning and other crucial regulations in their given area and as such are effectively gatekeepers to what gets built in their town, city, county and so on.
That obviously includes battery energy storage system (BESS) projects, and local fire departments and other authorities of that type need to be satisfied that a developer's plans include using certified and safe equipment.
Seungse Chang, head of the energy storage battery business division and senior VP at LG Energy Solution offered a technology provider's insight, while Burns McDonnell's energy storage regulations and compliance expert Ben Echeverria and project manager Julian Hoover offered their views from the EPC perspective.
Asked what had changed in the US energy storage space over the past five years or so since megawatt-scale BESS developments became more common, Hoover said that AHJs as well as their communities tend to be far more educated on the technology than they used to be.
"You think of the challenge an AHJ had when it [BESS] first came out, of not even knowing what a battery storage project is. The biggest difference today is there's so much more education being provided to communities, AHJs, EPCs, project owners that I think we're all starting to get a better appreciation for what it is," Hoover said.
In an interview last year with our quarterly journal PV Tech Power, fire safety and battery storage subject matter expert Paul Rogers at Energy Safety Response Group (ESRG) said that stakeholder engagement with AHJs as early on in the development process is absolutely vital, but is something many in the BESS industry do not realise or overlook.
This was echoed in a more recent Guest Blog for this site, co-authored by one of his colleagues, ESRG principal Nick Warner. Both are former firefighters and have an inside perspective on AHJs and how they think. Burns McDonnell's Ben Echeverria and Julian Hoover concurred with the ESRG experts' views at RE+ this week.
Early engagement at the local authority level when applying for a conditional use permit for a project's land can help AHJs get comfortable with the technology being used, Echeverria said.
Education, education, education
"The biggest part that I've seen in dealing directly with AHJs is that they have two extremes of the spectrum," Echeverria added.
"You've got [some AHJs that are] uneducated, but somewhat concerned, because of their local temperature, if you will, with regards to the opposition. And then you've got on the other side of the extreme, very educated AHJs, due to the fact that they are hiring in subject matter expert consultants, to bridge that gap, act as a gatekeeper, to confirm that they're not going to get something put in their jurisdiction that they know nothing about and that may or may not be a hazard."
In other words, Echeverria said, it's about "education, education, education," and noted that reluctance to talk about fire safety from the industry is only "adding to the problem," which has seen numerous recent BESS projects fail in their applications because of local community-raised concerns.
Where engagement has been held early and been successful, Hoover said meanwhile, education is helping to guide industry best practices and results in positive AHJ engagements, which are a step in the right direction.
Customising to meet specific AHJ requirements
LG Energy Solution's Seungse Chang told Energy-Storage.news that on a basic level, no large-scale BESS projects can pass AHJs requirements without meeting the key UL9540 certification or going through UL9540A fire testing. In most cases, National Fire Protection Association code NFPA855, which incorporates these, is needed.
LG Energy Solution has launched a system integrator division, LG Energy Solution Vertech, which was largely formed through the acquisition of NEC Energy Solutions, and so has a further stake in the game as well as selling its BESS battery products and solutions.
From the residential scale through to large-scale front-of-the-meter, LG ES – or any other company – cannot sell products in the US without those UL certificates and reports.
However, Chang said, although in most cases that's enough to satisfy AHJs, there is also sometimes a need to go above and beyond the requirements of those standards and benchmarks in order for AHJs to accept the use of BESS equipment in certain projects.
"Even though we're certified with the UL regulation altogether, there were some very customised and special requests from different AHJs and counties," Chang said, which LG ES would fulfil, and the battery storage division head noted that no two requests of that type are the same.
As Paul Rogers had noted in his 2022 interview, fire departments assume that worst case scenarios are possible with any equipment being installed in their jurisdiction. It's their job to do that and put their community's safety first, of course.
Chang agreed that often, mitigating the worst case scenario outcome is what's required by those authorities. It can work both ways too, some AHJs may be less stringent, but the main thing is that what the AHJ says goes, and the industry can and should work with them.
"There are specific recommendations from UL on let's say, how much distance needs to be separated from each of the containers, but in some cases, some AHJs require even longer distance," Seungse Chang said.
"Some AHJs require an even shorter distance, if you've passed the larger scale [fire] test," and in either case, the BESS asset design needs to be customised to fulfil those needs.