A memorandum of understanding (MoU) between Polish company Orlen Synthos Green Energy (OSGE) and the Emirates Nuclear Energy Corporation (ENEC) will see the parties work together to support decarbonisation efforts in Poland and Europe through investments in in small modular reactors (SMRs).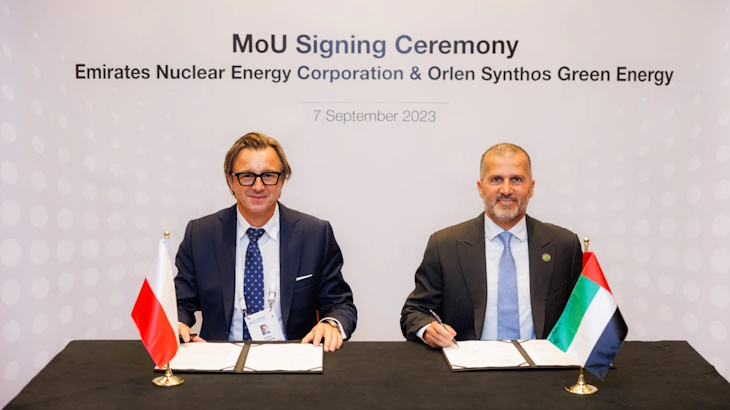 The agreement was signed by Kasprów (on the left) and Al Hammadi during World Nuclear Symposium 2023 in London (Image: OSGE)
The framework agreement, signed by ENEC Managing Director and CEO Mohamed Al Hammadi and ORLEN Synthos Green Energy CEO Rafał Kasprów, aims to provide the parties with an enabling framework to develop SMRs based on GE-Hitachi Nuclear Energy's BWRX-300 technology in Poland and the UK, as well as within Central and Eastern Europe.
OSGE is planning to build and operate Poland's first SMR power plant by the end of this decade, and to launch further units in the 2030s. As a partner of GE-Hitachi, the Polish company has exclusive rights to use BWRX-300 technology in Poland, and is also cooperating with Ontario Power Generation and the Tennessee Authority Valley, which have also chosen to deploy BWRX-300 technology in projects in Canada and the USA, respectively.
ENEC will share lessons learned from the development of the UAE's first nuclear power plant, Barakah, including its experience in building operational readiness, and stakeholder management, building commercial frameworks with technology vendors and other contractors.
"This MoU sets the stage for our plans to accelerate nuclear adoption globally and lend our expertise in advancing the clean energy transition towards achieving Net Zero," Al Hammadi said.
"The development of the Barakah Plant in the UAE is a catalyst for innovation and R&D in new areas, including SMRs, which we are currently exploring as part of our future growth opportunities, alongside other next-generation technologies. Globally, there is an urgent need to ramp up nuclear capacity if we are to meet climate goals. We look forward to working with ORLEN Synthos Green Energy to support decarbonisation in Poland and other parts of Europe."
Kasprów said the partnership with ENEC is a milestone for OSGE's plans to deploy a fleet of BWRX-300 reactors in Poland, central and eastern Europe and the UK. "ENEC brings unique experience in building nuclear power plants in accordance with the highest nuclear industry safety and quality standards, delivering projects on time and on budget. Furthermore, I am pleased that ENEC recognises the development of SMRs as important for the future of nuclear energy," he said.