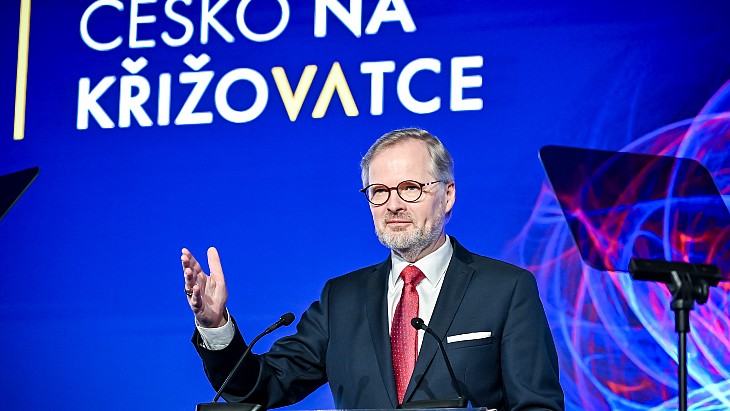 In a speech to open a conference discussing future strategy for the Czech Republic, Prime Minister Petr Fiala said the country would need as many as four new nuclear power units.
He said it had been a problem to not have "broad and long-term society-wide agreement on the main priorities of the direction of our republic", with strategic investments in things such as nuclear energy featuring among the "pillars" that the country's future should be built upon.
"Transportation, energy infrastructure, nuclear, lithium, chips and trends in information technology, these are, in my opinion, six specific areas that have a huge potential to change our country. That is why a large part of strategic investments must go there," he said in his speech.
He then went on to highlight nuclear as one of those projects which combined innovation and added value with the potential to give a big boost to the entire economy.
"We don't need to have long discussions about nuclear energy. It is our traditional sector. We have enough experts and the potential to prepare more, we have facilities at universities and research institutes. Nuclear must remain the clean energy source of choice in Europe. We are doing absolutely everything for this within the framework of our foreign policy. The Czech Republic will need more nuclear reactors - up to four in the future - and a huge amount of money will be directed there," he said.
He added that the nuclear tender for a new unit at Dukovany "which we finally launched after years of delays, is far from the only opportunity".
The global nuclear industry was developing and the Czech Republic "strives to be at the centre of the development of small modular nuclear reactors - their subsequent construction in European countries and in the world would be a great opportunity for a whole range of Czech companies and their experts".
He added that legislative changes would be brought in to "facilitate the construction of transport, energy and network infrastructure".
In March 2022, wholly-owned ČEZ subsidiary Elektrárna Dukovany II launched a tender for the construction of a new nuclear power plant at the site. At the end of November 2022, ČEZ announced that it had received initial bids from EDF, Westinghouse and Korea Hydro & Nuclear Power. Final bids are expected in the coming months.
In March 2022, ČEZ also said that it had earmarked an area of land at its Temelin site to be used in the future for the construction of the country's first small modular reactors (SMRs) and in February 2023 it identified the coal-fired power plants at Dětmarovice and Tušimice as the preferred second and third SMR locations, with ČEZ hoping to have the sites in operation by the second half of the 2030s.
Four VVER-440 units are currently in operation at the Dukovany site, which began operating between 1985 and 1987. Two VVER-1000 units are in operation at Temelín, which came into operation in 2000 and 2002. Past Czech energy policy has proposed two new units at each of the two existing sites. The Czech Republic gets about 34% of its electricity from its nuclear power plants.