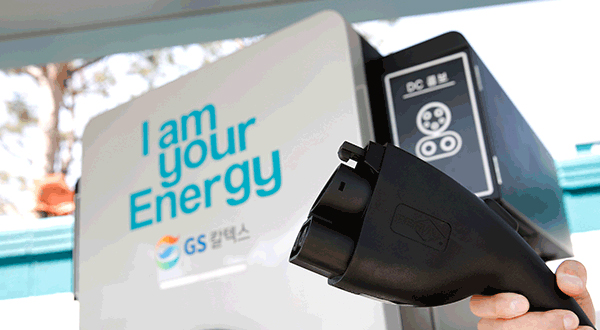 South Korea's second-largest oil refiner GS Caltex Corp. making headway in distribution of future fueling has joined hands with Kia Motors Corp. to make more electric vehicle (EV) charging stations available in the country.
The two companies on Tuesday signed a memorandum of understanding (MOU) agreement to cooperate on expanding EV charging infrastructure across the country by adding more EV charging stations to the oil refiners' existing stations, building new stations that offer total solutions encompassing gas pumps to EV and hydrogen fuel chargers and introducing joint marketing campaigns.
The signing ceremony was attended by 20 company officials including Jang In-yung, executive vice president of retail marketing at GS Caltex, and Kwon Hyuk-ho, vice president of Kia Motors.
GS Caltex and Kia Motors under the partnership aim to bring more convenience to electric vehicle drivers to meet the growing demand at home, with the number of EVs hitting 30,000 last year and expected to top 40,000 this year and 100,000 in 2021.
They are planning to introduce convenient mobile payment options for charging in the first half of next year, which will allow drivers to use the facilities and pay the bill without additional verification if they register in advance on smartphones.
Customers with Kia Motors' Red Members membership will also be able to use its points to pay the bill.
"We'll keep up efforts to expand EV infrastructure for drivers' convenience in Korea. Various ways are being considered under the partnership in our EV alliance," said a company official.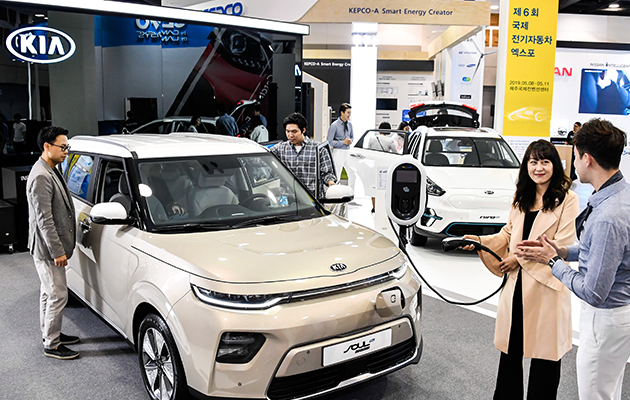 GS Caltex in May formed an EV alliance with LG Electronics, car-sharing service operator GreenCar, EV charger developer Signet EV, and EV charger solutions provider SoftBerry to create the industry ecosystem and enhance their cooperation on the development of mobility technologies. Kia Motors with the latest partnership newly joined the alliance, drawing attention to further actions to be made from industry watchers.
After forming the alliance in May, GS Caltex immediately installed eight EV chargers at its seven gas stations and started its trial service. It also announced this month that its gas stations will be turned into Total Energy Station fueling all vehicle types of gasoline models and electric and fuel-cell versions.
GS Caltex currently runs 27 high-speed EV battery charging units at 23 nationwide gas and LPG stations. It is planning to add more to have 40 units until the end of this year.