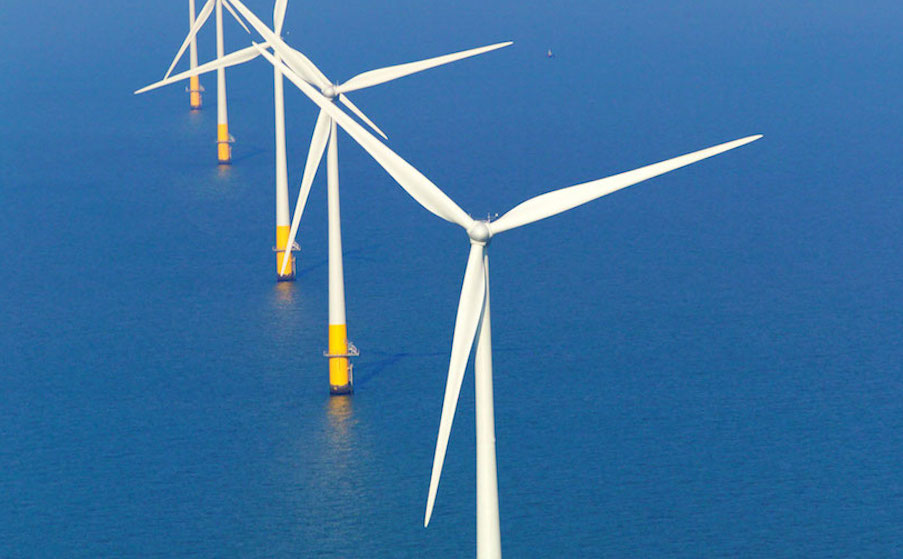 Global offshore wind power capacity is set to rise at least 15 times to about 350 GW by 2040, according to a new report by Paris-based International Energy Agency.
"Government policies will continue to play a critical role in the future of offshore wind and the overall pace of clean energy transitions around the world," the report says.
In what some media speculate as a change in IEA's previous skepticism about renewable energy's place in the global power misx Executive Director Fatih Birol says in the report that offshore wind's "potential is near limitless," adding that "improved technology and steep cost reductions are putting more and more of that potential within our reach."
Europe will continue to be market leader with China in second place, while the U.S. is forecast to follow by installing nearly 40 GW at a cost of $100 billion.
The energy group says total global capital spending is predicted to reach $840 billion by 2030, and will need to rise to $1.2 trillion to meet climate and sustainability targets. The lower of these two levels will represent 10% of total investment in renewable energy projects, says IEA.
According to current country policies, offshore wind power's contribution to global electricity supply will rise from 0.3% now to 3% by 2040. After growing by nearly 30% a year in 2010-2018, the global market now includes around 150 new offshore projects in active development.
With strong political support, the European Union had installed nearly 20 GW of offshore wind farms by the end of last year, with plans to increase capacity four times by 2030.
Last year, China installed 1.6 GW of capacity, more than any other country.
In the US, state-level targets "set the course for rapid growth over the next decade," according to IEA.
India, Korea and Taiwan also have "ambitious targets", while Japan and Canada are among nations "laying the groundwork for future offshore wind development."
Meanwhile, Australian engineer-contractor Worley is getting into the offshore wind design sector with its purchase earlier this month of 3sun Group, a leading UK-based firm in that market, for about $38 million.
Worley, recently renamed from WorleyParsons, after completion of its purchase of the chemicals and industrial group from Jacobs, says 3sun Group has about a 25% share of the UK offshore wind turbine installation, maintenance & inspection services market and about 15% of the European market.
The Australian parent says offshore wind energy provided higher yields than onshore due to stronger and more consistent winds.
3Sun Group had been owned by private equity firm BGF since 2014. Details of a new title and role scope for the engineer's founder and CEO Graham Hacon were not announced.
Worley was also awarded earlier this year an offlshore wind design contract in the U.S. by developer Orsted for two substations to be built for its Revolution Wind offshore project, to be located 15 km off the southern coast of Rhode Island.