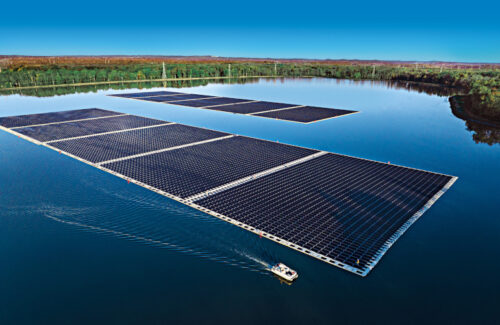 The largest floating solar array in North America is now complete in New Jersey. Owned and operated by NJR Clean Energy Ventures, the 8.9-MW solar project covers 17 acres of the Canoe Brook reservoir in Short Hills, New Jersey. The project will provide approximately 95% of the power needs for New Jersey American Water's Canoe Brook Water Treatment Plant.
"Floating solar technology creates new opportunities for underutilized bodies of water, allowing space that would otherwise sit vacant to enable large-scale renewable energy generation, which helps to bring the benefits of clean energy to even more customers," said Robert Pohlman, Vice President of NJR Clean Energy Ventures. "As a leader in New Jersey's solar marketplace, we look forward to working with New Jersey American Water to support its power needs and advance the state's clean energy and climate goals."
"As the state's largest water and wastewater utility company, it is essential for us to be good stewards of the environment by operating efficiently and in a manner that helps protect our natural resources," said Mark McDonough, president of New Jersey American Water. "This initiative provides a meaningful reduction of traditional energy use that benefits the environment, as well as our customers through limited capital expense and reduced power costs."
The Canoe Brook solar facility was placed into full commercial operation in January 2023 after a year under construction. Canoe Brook is the second floating solar project in NJR CEV's portfolio. The first, a 4.4-MW array located in Sayreville, New Jersey, was placed into commercial operation in 2020.